Disclaimer: This product was gifted by Palmolive, but all views are my own.
One thing that I've taken from lockdown is that I need to make more time for me. Once things start returning to normal and I am resolving to carve out some time to look after myself between working full time, dashing around dropping off and picking up the kids and running the house.
During lockdown, I've had to find new ways to try and look after myself which involve staying at home instead of heading to the hairdressers or beauty salon. This post is all about my favourite finds during lockdown. Products that I've come to love and that make me feel refreshed and happy.
Palmolive Naturals Coconut Shower Cream
There's nothing like the smell of coconut to make you feel like you're on a beach somewhere, sunbathing in the glorious heat. This coconut shower cream is an olfactory dream. The lush creamy composition leaves your skin feeling smooth and soft and smelling divine. I love to put a few drops under the running taps as I am drawing my bath as it leaves the bathroom smelling like a Caribbean island. An island I can only dream about while our borders are still locked.
The Body Shop Camomile Gentle Eye Make Up Remover
I used to be that person who fell into bed every evening with a face full of makeup. Not great for my skin and certainly not great for my eyes. Luckily, during lockdown I have discovered the Body Shop Camomile Eye Make Up Remover which is soft and kind to my eyes, but really tough at getting rid of mascara, eye shadow and eye liner.
I've now made it my mission to make sure my make up is removed every evening and as a result, my skin feels like it's glowing!
Skyn Bakery Indulgent Handmade Body Butter
I was recently gifted a pot of this luxurious body butter which is so dreamy and thick and leaves my skin feeling deeply moisturised. Clare who runs Skyn Bakery is an absolute genius at creating soaps and body butters and this mango body butter is no exception.
Liz Earle Deep Cleansing Mask
Relaxing with a glass of wine and a face mask is the new night out on the town thanks to most of the pubs and bars still being closed. I discovered Liz Earle's face mask during lockdown which is a thick, grey gloopy liquid mask that you apply and wash off after fifteen minutes. Afterwards, my face feels squeaky clean and ready for my beauty sleep!
Clarins One-Step Gentle Exfoliating Cleanser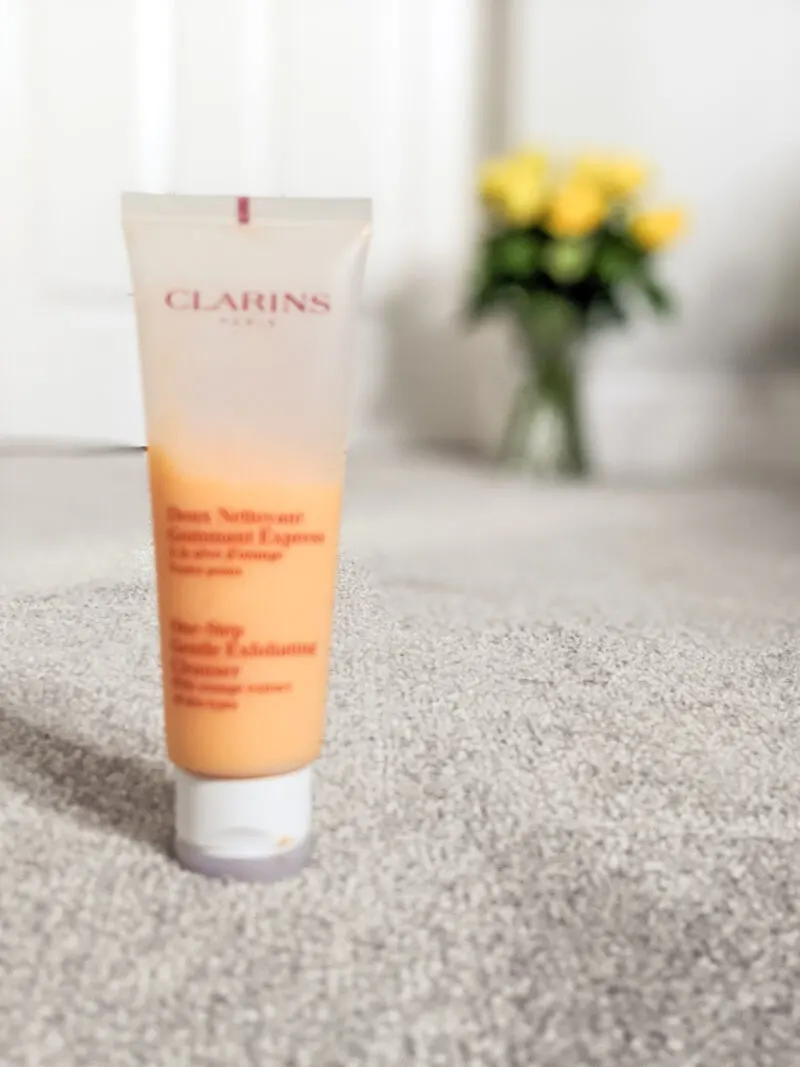 Last year I attended a Clarins press evening and discovered this incredible face scrub which I have been using ever since. It's slightly gritty which is great for cleaning out those clogged up pores and it leaves my skin totally clean and ready for a good moisturise. I use this morning and evening so that my skin is a complete blank canvas ready for my make up to be applied. I've found since using it religiously that not only have my regular hormonal spots cleared up, but applying my make up has become a lot easier too.