Welcome to another week of Weaning Wisdom Wednesday. This week I am joined by Gee from Stratford-upon-Avon who is Mummy to two gorgeous girls and blogs about everything and anything to do with parenting and her love of photography. Take it away Gee!
1.      Introduce yourself and family.
 Hello! I'm Gee and my family is made up of me, my other half, my eldest daughter Eloise who is 7 and my youngest daughter Lily who is 19 months old. Oh and a cat called Garfield who is our animal hoover. Who needs a dog right?!
2.      What method of 
weaning

 did you use? (Baby-led, traditional 

weaning

, combination)
 I did initially want to go down the BLW route like I did with my eldest but Lily has a tongue and lip tie that wasn't diagnosed, despite me saying she had them, until she was 1 year old. She has always been a very "chokey" baby so I decided to do TW this time around because I don't think my nerves would have coped with BLW. We did give her the odd finger food here and there from the start so I guess maybe that's more combination but it was mainly mashed food really to start with.
3.      When did you start 
weaning

 and why?
 I started weaning Lily at 6 months although not on the exact day she turned 6 months. She seemed pretty ready but I didn't want to start on a specific date and just went for a day she was in a particularly good mood.
4.      Talk us through your journey, how did you start, what did you do?
 We started with a few tastes of different things, nothing too wild to begin with just some fruit, veg and cereals. Only tiny tastes at first, I gave her literally the tip of a baby spoon over the first couple of weeks and gradually increased the portion size as she wanted more and started mashing whatever we were having quite quickly.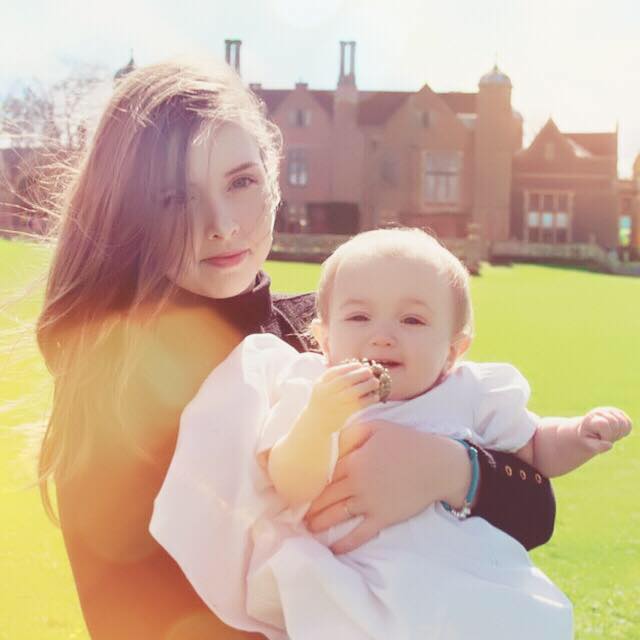 5.      What food did baby love and what was their least favourite food?
 Her favourites when she started weaning where fruits, particularly strawberry and banana. Least favourite would have to be chickpeas which she still isn't keen on. Her favourite food at the moment are spicy enchiladas. I made them and went a little bit overboard with the spices and they were HOT. I couldn't finish them but Lily wolfed them down!
6.      What sort of food did baby eat when you are out and about?
 If we were going to be out around her meal times we would generally grab her a pouch of Ella's Kitchen or let her nibble at whatever we had if it was suitable.
7.      What highchair did you use? Would you recommend it to other Mums?
 A cheapo Graco thing. It's not the most fabulous thing but the covers are removable which I just bung in the washing machine on the coolest, shortest cycle so it's super easy to clean.
8.      What is your opinion on offering baby fast food?
 As long as its part of a healthy balanced diet with ingredients suitable for the age of the baby/toddler I don't see the problem with a few nibbles here and there. Just keep an eye on salt content.
9.      What was the most challenging aspect of your 
weaning

 journey?
 My fear of her choking for definite! I still cut Lily's food up quite a bit although she is starting to cope a lot better with larger pieces now but we still have the odd day she will choke and/or gag on things.
10.   Have you ever received any criticism for your weaning choices?
 With BLW not really, but definitely TW. I find TW and BLW get quite similar responses to the whole FF and BF thing quite a bit which is a shame because we are all in this together.
11.   Did you meal plan, or just offer whatever is available in the fridge
 I do a bit of both. I mostly just wing it though, my meal planner has had the same stuff written on it for 2 weeks now so yeh, definitely more of a wing it type person. If I have certain foods that'll go off quicker I will plan to use those first but that's about as planned as it gets really. I would really like to be more strict with the meal planning because it really is so much cheaper but I always end up not fancying whatever I had planned and swapping it around!
12.   What tools did you buy that were invaluable?
 Bibs and bottles and bottles of dettol spray! We all know how grubby both baby and highchair get during meal times!
13.   If you were to do it all again, what would you do differently?
 I would have bought a better blender and made more of my own purees because I hate to think how much I spent on pouches this time around but the blender I bought was utter pants so I ended up just struggling and mashing the food as best I could.
14.   If you could give one piece of advice to new Mums who are about to start 
weaning

, what would it be?
 Same with everything parenting wise – Do what you gotta do, research and make your decisions based on what is best for you and your baby. Also don't buy a highchair with a fabric cushion insert because it WILL be destroyed in seconds and you will hate having to try and get the stains out! I had a Stokke Tripp Trapp with my first and it was beautiful but oh my goodness did it drive me bonkers trying to clean the cushion!