*We were sent a Lumie Bedbug to review in return for an open and honest review on this blog.
Although I try not to brag, I've never made a secret of the fact that Dex has been a really good sleeper since he was a few months old. We've been blessed with a baby who slept all night long (with the odd wake ups during leaps, growth spurts and regressions) and had a very sturdy nap routine, sleeping from an hour to three depending on how old he was at the time.
Even today, at 28 months old, on the whole Dex sleeps for twelve hours a night and will have a two hour nap each day. Recently, things have been a little more hit and miss; whether that's down to the new environment with us moving house last month, his age or him feeling insecure due to my pregnancy, I don't know. But I was willing to try anything to see if we could improve things for him, never really having done any sort of sleep 'training' with him before.
Let's be clear. Although I don't identify as a 'gentle parent', I do believe in quite a lot of their key principles and am not really a fan of sleep training per se and certainly not crying it out, especially with newborn babies. Crying it out simply does not work with Dexter, if I leave him to cry, he will climb out of his cot and come looking for me. I am more interested in gentle ways of soothing a toddler to sleep, without the need for giving up four hours of my night, something I just can't cope with at six months pregnant.
So I asked the blogging community for their tips in helping their toddlers sleep, and most importantly, staying asleep. Here's what they came up with:
Use a comforter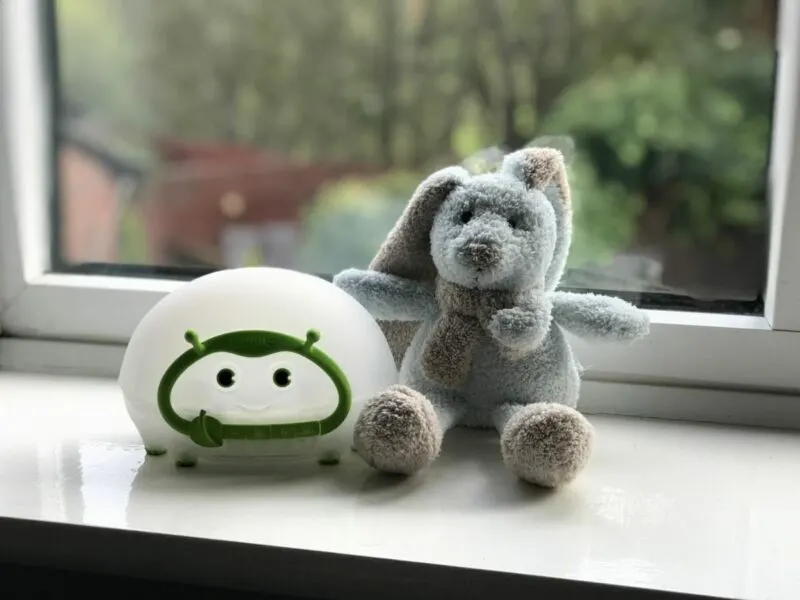 Dex is very attached to his Sleepytot bunny which he's had since he was about six months old. It's so funny how we know he's tired because he will hunt out bunny from his cot and start rubbing his eyes. He totally associates bunny with going to sleep, so this is a great idea, although one you probably need to start using when they're young.
Have a strict routine
Lots of mum rely on a strict routine to help their little ones sleep, something like bath, book and bed. Again, this is one to start when they're young so they get used to the pattern of what is coming. Babies and toddlers thrive on knowing what is coming next and a routine is a fab way to get them to sleep.
Staying with them until they fall asleep
Lots of mums rely on staying with their toddler in their room, perhaps lying on the floor next to their cot or bed or snuggling in their bed with them, until they fall asleep. This stops their toddler getting out of bed multiple times as they feel soothed and reassured that Mum is there as they fall asleep.
Invest in a sleeping bag
We are completely relying on our Antipodes Merino sleep sack at the moment, as once Dex is in it, he cannot use his legs to climb out of the cot! Sleeping bags are a great tool for Mums though, as they keep baby nice and snug without the worry that the blanket is going to get thrown off in the night.
Use a night light
The thought of using a night light has never really crossed my mind, but recently it's felt like a really good idea because every time I put a big light on, whether that's in Dexter's room or in the hallway, he will defiantly announce 'it's MORNING!' and try to get out of bed.
Luckily for us we were sent a Lumie Bedbug to review, just as things were getting a little hard in the sleep department and I was excited to see if it could help matters.
Who are Lumie?
Based in the UK, Lumie have been designing and developing light therapy products for over 25 years and their lights help treat seasonal affective disorder, boosting mood and improving sleep. They invented the very first wake up light, way back in 1993 and supply the NHS with a range of products to help those who suffer with SAD or other sleep problems. The Bedbug is the latest light designed by Lumie to help little ones get a better night's sleep.
How does the Lumie Bedbug work?
The Bedbug emits white light as opposed to stimulating blue light which often keeps tiny tired eyes awake. It also offers a gradual sunset feature which provides a gentle transition to night time. This light which mimics a real sunset creates a calm environment promoting natural sleep. The nightlight feature emits an orange glow which does not contain any part of the light spectrum which triggers wakefulness meaning it can be left on all night so you can easily see your baby or toddler when you go in to check on them.
Did we see an improvement in Dexter's sleep?
Although we still had the same number of wake ups, we did find that it was easier to get Dex back to sleep if we flicked the night light on when we went in his room to check on him, rather than putting the big lights on. We loved how soothing it was to read to him in his room with the nightlight on before bed instead of having multiple lights or the TV on and it's been great at providing light in the mornings when he invariably wakes up at 6am and I'm trying to let my husband have a bit more of a sleep in while we snuggle in bed with a book.
Would we recommend the Lumie Bedbug?
Priced at £59.95, it certainly is on the more expensive end of the specrum when it comes to nightlights, but when you consider how much research has gone into creating the perfect sleep optimised light, you cannot really argue with the price tag. The light is visually pleasing and fits in well with Dexter's bedroom. We will definitely be using it more now the clocks are about to change and the darker evenings and mornings are upon us.
I've partnered up with Lumie over on Instagram to give one lucky person the chance to win a Lumie Bedbug. All you need to do is enter the giveaway over on Instagram, but I've embedded the post above for ease! Best of luck! T&Cs apply. For full T&Cs please read the Instagram post.
Thank you to the following bloggers who shared their toddler sleep wisdom with me: Oh So Mummy, A Rose Tinted World, Lylia Rose, Mummy it's Okay and Mixed Race Family