This year I am joining in with What the Redhead Said's project Living Arrows which is all about celebrating childhood.
"You are the bows from which your children as living arrows are sent forth"
-Kahlil Gibran
Each week I will be posting a picture of Dexter showing what we have been up to or something new he has learnt.
This week are celebrating a few important milestones. Dexter has started shaking his head, pointing and waving! It's so exciting to see Dexter respond to us by using these methods of communication and although he hasn't quite mastered the fact that shaking his head means 'no', it is still an incredible milestone for him to reach. Unfortunately, he is still not clapping, which is the only milestone my health visitor seems fussed about. I don't know what will become of it, but if he is not doing it by next month, I have to let her know. Meanwhile, we are having lots of fun shaking our heads, waving and explaining what exactly the things that Dexter points to are. His favourite thing to point at is our smoke alarm. I have no idea why he has such an intense interest in it, but he spends all of his breakfast, lunch and dinner looking at it and gesturing towards it. Perhaps he's asking us if we are sure the batteries in it are working?!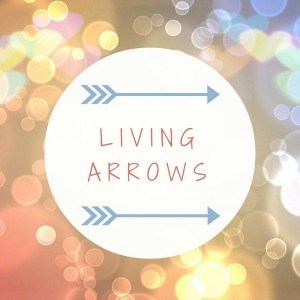 If you want to take part in Living Arrows, check out the linky here.
Check out previous weeks' installments here.