This year I am joining in with What the Redhead Said's project Living Arrows which is all about celebrating childhood.
"You are the bows from which your children as living arrows are sent forth"
-Kahlil Gibran
Each week I will be posting a picture of Dexter showing what we have been up to or something new he has learnt.
We had quite a tough week over here in Liverpool. Sunday night, Neil and I were struck with a stomach bug. We were up all night vomiting and the symptoms lasted until Wednesday. Monday was a complete write off, but by Tuesday I realised I had to get on with things for Dexter's sake. Luckily, he avoided being ill, although he has been suffering immensely with his teeth. He has a fourth tooth about to cut through at the top (lateral incisor) and he has really been struggling.
This week he has learnt to grind his teeth together. I had quick Google this morning and read that it is quite normal for babies to do this because it helps them relieve some gum pain, much to my relief. The noise is not particularly pleasant but I was also worried he could be doing some damage, luckily this is not the case. I am trying to discourage it by distracting him and ensuring we have a big pot of teething essentials nearby, including, calpol, baby neurofen, teething granules and teething gel. Hopefully the tooth cuts through soon and gives him some relief. Pulling himself up from our bed using the windowsill and looking outside at the city passing by has been a great distraction for him.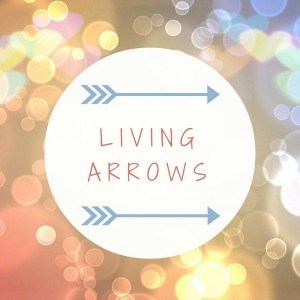 If you want to take part in Living Arrows, check out the linky here.
Check out previous weeks' installments here.