Looking for the best cups for your baby led weaning journey? Look no further. This post details the 6 best baby led weaning cups that will help your baby discover how to feed themselves water or milk.
Each cup on the list has been tried and tested by both Dexter and Felix and the list is curated by me and includes well loved brands such as Tommee Tippee and Munchkin. All baby led weaning cups are available to purchase via Amazin.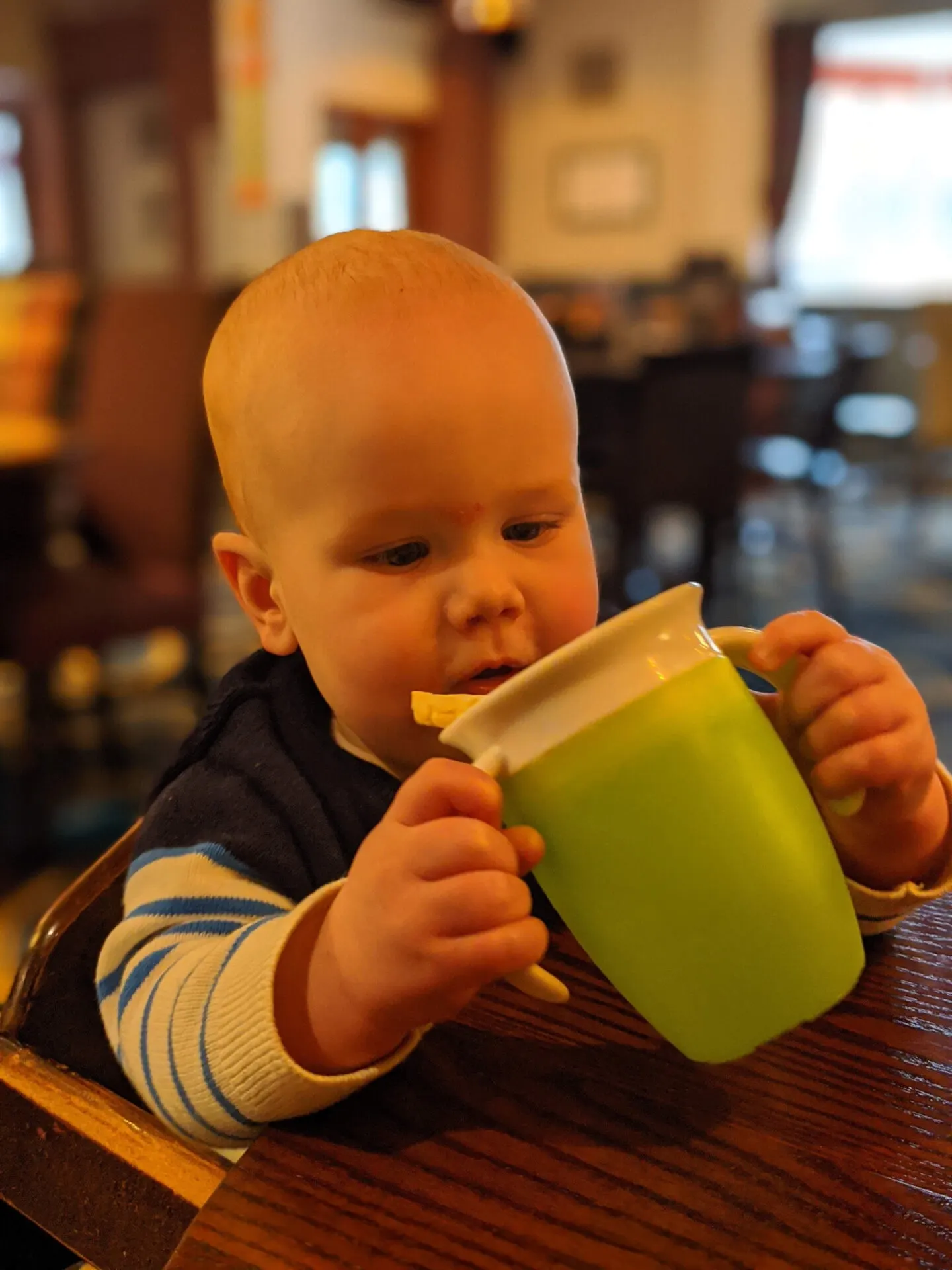 The Best Cups for Baby Led Weaning
Let's take a look at each one in depth.
Munchkin Miracle 360 Cup
I do like these little cups as they encourage 'open cup' style drinking when it's not practical for them to have an actual open cup. They're nice and solid and they don't leak, unless dropped top down! The downside is that they are somewhat awkward to clean. Maybe there is a knack but I've yet to discover it!

– Amazon reviewer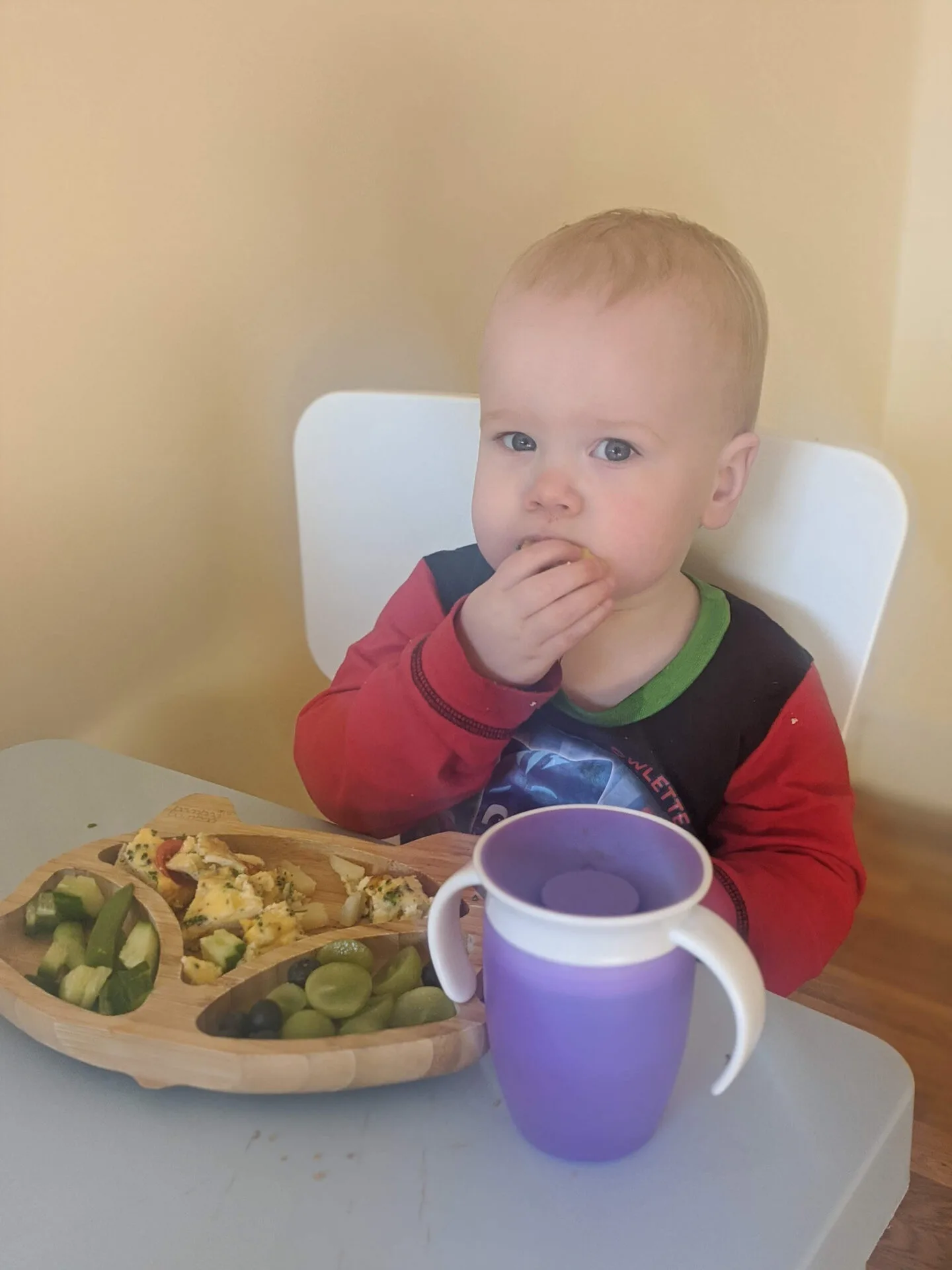 The Munchkin Miracle 360 Cup is a trusted companion for baby-led weaning, designed to promote independent drinking skills.
Its innovative 360° rim allows little ones to sip from anywhere along the edge, mimicking the experience of using a regular cup.
The cup's spill-proof technology ensures a mess-free learning process, while the easy-grip handles make it simple for small hands to hold.
With its clever design and emphasis on self-feeding, the Munchkin Miracle 360 Cup is a fantastic choice for fostering confidence in babies as they transition to drinking like grown-ups.
This is the highest rated cup on Amazon from our list and also our personal favourite. These cups saw both our boys right through to toddlerhood and became their go-to cups to take to bed with them (thanks to the non-spill feature!)
Slanted Doidy Cup
When weaning our youngest he couldn't get the hang of drinking from a sippy cup or the type with the silicone valve lid, but took to this very quickly. Occasionally sloshes it down his front but as long as he's paying attention to what he's doing he uses it independently very well. Would recommend to anyone.

– Amazon reviewer
The Slanted Doidy Cup takes a unique approach to baby-led weaning, featuring a distinct slanted design that's both functional and intuitive. Crafted to encourage babies to drink from the rim, this cup promotes the development of proper oral motor skills and coordination.
The slanted shape allows babies to see the liquid without tilting their heads too far back. Made from BPA-free materials, the Doidy Cup is lightweight and easy to hold, making it an excellent choice for transitioning to open cups in a gentle and supportive manner.
LOVE DEPOT Straw Cup
Great cup for my 10 month old doesn't spill but isn't 100% spill proof if say thrown out dropped but good enough for at home use. My son find it easy to hold and drink from and it's easy to clean.

– Amazon reviewer
The LOVE DEPOT Straw Cup offers a seamless transition for babies ready to explore straw drinking. With a spill-resistant design, this cup allows for independent sipping without the mess. The soft silicone straw is gentle on gums and teeth, while the ergonomic handles make it easy for little hands to grip.
The LOVE DEPOT Straw Cup is a practical choice for teaching self-feeding and providing a smooth transition from bottles or spouted cups to more advanced drinking methods.
The reviews on Amazon mention that this cup is not fully spill proof with babies being being able to easily pop the lid open upon squeezing it!
NUK First Choice Sippy Cup
When you say non drip you still think it will drip maybe a little but no! ,It's the real deal. My grandson loves this, he keeps it in his hands most of the time. So I can 'chill me beans' whilst he rambles around my living room with it. (I have a very pale grey carpet!)

– Amazon reviewer
The NUK First Choice Sippy Cup is a reliable companion for early stages of baby-led weaning. Designed to aid in the transition from breastfeeding or bottle feeding, this cup features a soft silicone spout that's gentle on gums.
Its spill-proof design helps minimize messes, and the easy-to-grip handles encourage self-feeding skills. With its versatile features and thoughtfully designed spout, the NUK First Choice Sippy Cup is a great tool to support your baby's journey to independent drinking.
Munchkin C'est Silicone!
This is a beautifully presented and well designed baby cup. Its presentation box and branding is slick and it makes an ideal gift.

Being silicone, it feels soft to the touch and slightly flexible which is perfect for little hands (especially being non-slip) and gums.

– Amazon reviewer
We haven't actually tried this cup, but it feels like it's a sleek and effortless upgrade from the Munchkin 360.
With a gorgeous pastel design, this cup doesn't hold an awful lot of liquid (2oz!), but looks effortlessly chic and will make your instagram snaps look amazing.
Made from high-quality, BPA-free silicone, this cup is soft and safe for delicate mouths. Its spill-proof design prevents unnecessary messes, allowing babies to practice sipping without worry.
The Munchkin C'est Silicone! Cup is a reliable companion for baby-led weaning, promoting self-sufficiency and skill development in a playful package.
Our favourite baby led weaning products
Tommee Tippee Free Flow First Cup Sippy Cup
Perfect for my 7 month old. Easy to grip and sip from. No leakage which is great for packing!

– Amazon reviewer
A classic, but an absolute fave! This cup was our first ever cup for Dexter and it was always the one we carted around with us in our travel bags.
With a free-flow design, this cup encourages natural sipping and helps develop oral motor skills. The spill-proof valve minimises messes while allowing the liquid to flow easily.
The easy-grip handles and lightweight construction make it a breeze for tiny hands to hold and maneuver. Designed to support a smooth transition from breast or bottle feeding, the Tommee Tippee Free Flow First Cup Sippy Cup offers a great balance of functionality and ease.
Author: Nicola Hughes
Nicola has weaned both of her boys using the baby led weaning method. She loves nothing better than creating simple recipes that anyone can recreate, using as few ingredients as possible. All of her recipes have been tried and tested by both Dexter and Felix and have their seal of approval!