We are off to Gran Canaria in a few short weeks which will be our first family holiday since 2019. Thanks to the pandemic, we've been unable to get away abroad for a couple of years now, and trying to remember all of the bits and bobs you need to prepare prior to place travel has been quite a challenge!
Felix is too little to remember the first time we took him abroad, so he is very excited about our upcoming break in the sun. But, when you travel with a toddler, the list of things you need to have on hand is remarkably different to the things you need when travelling with a baby, or indeed an older child.
8 Hand Luggage Essentials for Toddler Mums
Here is my list of 8 essentials for a toddler mum's hand luggage when travelling to Europe in a post-pandemic world.
Hand sanitiser
A decent face mask
Baby wipes
Snacks
Spare clothes
Tablet or spare phone
Paracetamol and/or ibuprofen
Travel toilet seat
Let's take a look at each in turn:
Hand sanitiser
When travelling through airports, you will come into contact with a lot of different people. More people = more exposure to germs, as a general rule of thumb. By having hand sanitiser in your luggage, you can quickly and easily clean yours and your kids' hands on a regular basis, making sure you stay happy and healthy.
A decent face mask
The rules for wearing face masks are changing on a regular basis, however the science shows that by wearing a face mask, you are keeping yourself protected from exposure to germs that can make you poorly.
A decent face mask, like the Silver Life Face Masks will keep you protected from harmful germs, but most importantly are comfortable enough to wear for long durations.
I particularly like Silver Life Face Masks as they have an adjustable elastic, can be machine washed without losing their effectiveness and are effectively recyclable.
Baby wipes
A mum's hand luggage would not be complete without baby wipes. Perfect for wiping snotty noses and stinky bums, I am always lost when I forget to pack some! No doubt there will be a few sniffles on the plane when taking off and landing, so you'll definitely need these to hand!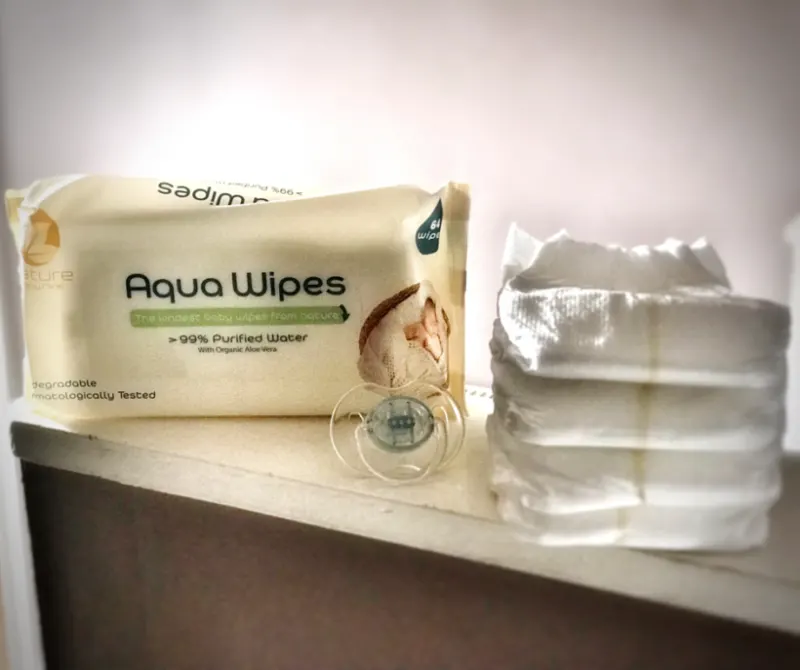 Snacks
Nothing shut my toddler up quicker than a snack! Snacks are great to pull out as a distraction during tricky moments on the aeroplane. I like to pack a mixture of healthy and treat snacks such as fruit and also yummy chocolate bars and a few sweets to keep the little ones happy.
Spare clothes
Our toddler has recently finished potty training, but you never know when an accident might strike! Especially as sometimes the toilets are closed during the flight due to turbulence, take off and landing and other issues.
A couple of pairs of underpants, some spare trousers and some socks are always a good idea to pack in your hand luggage for a quick change incase of any accidents!
Tablet or spare phone
Screen time is always controversial, but when it comes to plane travel, I couldn't live without a tablet or a spare phone for my toddler to watch. Distraction is a great tool when they're getting a bit antsy about taking off and it'll also keep them busy for at least a couple of hours, making the long plane journey easier to handle.
Paracetamol and/or ibuprofen
Show me a mum who can travel with kids and not end up with a banging headache? I am prone to migraines when travelling too, so I am always sure to pack some painkillers so I can tackle the pain before it ruins the whole journey!
Travel toilet seat
Felix is still using a potty at home, but there's no way we will be carting that monstrosity all over the airport and onto the plane. We have a travel toilet seat that we picked up from Amazon a couple of years ago. It folds into four, so it's discreet and can easily be hidden in your hand luggage inside a little tote bag.
Enjoy your trip!
I hope this post has given you some great ideas on what you MUST pack in your hand luggage if you're travelling with toddlers. Most of all, I hope the trip is a breeze and you have a whale of a time once you get there! We are so excited for our trip!