Is there anything better than crispy on the outside and soft on the inside roast potatoes? Roasters, roasties, roasted tatties – whatever you call them, I doubt there's one person in the whole of the UK who doesn't look forward to their Mum's roast potatoes. Introducing these air fryer roast potatoes which will save you loads of time in the kitchen, without compromising on taste.
Roast potatoes in the air fryer – as good as in the oven?
Yes, yes, yes! At first I was doubtful and even though we got ourselves a brand new airfryer with digital functionality, I continued making my roast potatoes in the oven, week in, week out.
Then one day, in the midst of the festive season and up to my eyeballs in tasks, I decided to give them a go in the air fryer. What a game changer!
Taking less than half the time and still tasting absolutely incredible, I will be making my air fryer roast potatoes every single week without fail from now on!
What airfryer do you use?
We recently bought a new air fryer after our old one packed in after a good few years of use. As much as I loved the old one, I hated how you couldn't set an exact timer on it and when I saw TikTok videos of people able to detach the basket from the pan – I knew we needed something hugely different this time.
Thanks to Black Friday we got the Princess Digital Air Fryer for less than £50. I believe it currently retails for around £60 – but it's well worth the price tag.
It has inbuilt programmes so you can cook chips, fish and meat at the click of a button, a preheat function (love it!) and a digital timer so you can set the exact time you want to cook things for.
What meals can you eat these airfryer roast potatoes with?
Air fryer roast potatoes don't just have to be eaten with a Sunday roast. You can also try them with:
Fish and steamed veggies
Grilled chicken and salad
Pork and asparagus
Sausages and gravy
Steak and mushroom sauce
The options are truly endless aren't they?
How to make airfryer roast potatoes
Making these air fryer roast potatoes couldn't be simpler:
Simply peel potatoes of your choice and boil for around fifteen minutes
Once you've drained the water, shake the pan for thirty seconds so the edges of the potato are a little battered
Add the potatoes to the air fryer with a tablespoon of oil of your choice and whatever seasonings you like (see below for more on this)
Cook on 200C for twenty minutes, shaking the basket regularly.
Why do you shake the parboiled potatoes?
I find this helps to create a really crispy roast potato that keeps them fluffy on the inside.
Simply pop the lid on the pan once you've drained the water, then carefully shake for at least thirty seconds.
---
More potato recipes: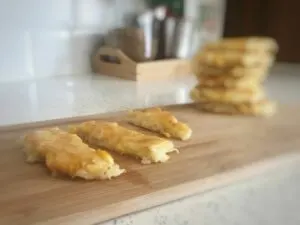 ---
Does this recipe make crispy roast potatoes?
Yes! The results from using this recipe have always been crispy roast potatoes that are lovely and soft on the inside. These air fryer roast potatoes are absolutely gorgeous soaked in gravy and eaten alongside roast chicken and yorkshire pudding. Divine!
What seasonings can you add to these air fryer roast potatoes?
As I have two young kids, I usually make these air fryer roast potatoes without any additional seasonings and then me and hubby add ours later if needs be. However, the options are endless:
Salt and pepper
Crushed garlic and fresh rosemary
Cayenne pepper and hot paprika
Thyme and garlic
Sea salt, garlic powder and onion powder
If you enjoyed making this recipe, please:
Yield: 3 portions of roast potatoes
Air Fryer Roast Potatoes
Super quick and extremely delicious air fryer roast potatoes - the perfect accompaniment to your roast dinner - in half the time!
Ingredients
500 grams potatoes
olive oil
Instructions
Peel the potatoes and cut into small chunks. I like to halve them, halve it again and then cut into six sections.
Place in a saucepan and cover in boiling water. Boil for ten minutes,
Preheat the airfryer.
Drain the potatoes, place the lid on top of the saucepan and shake the contents vigorously for thirty seconds.
Place the potatoes in the air fryer with salt, pepper and a tablespoon of oil.
Cook on 200C for 20 minutes, opening the air fryer regularly to shake the contents.
Nutrition Information:
Yield:
3
Serving Size:
1
Amount Per Serving:
Calories:

195
Total Fat:

5g
Saturated Fat:

1g
Trans Fat:

0g
Unsaturated Fat:

4g
Cholesterol:

0mg
Sodium:

17mg
Carbohydrates:

35g
Fiber:

4g
Sugar:

2g
Protein:

4g
Author: Nicola Hughes
Nicola has weaned both of her boys using the baby led weaning method. She loves nothing better than creating simple recipes that anyone can recreate, using as few ingredients as possible. All of her recipes have been tried and tested by both Dexter and Felix and have their seal of approval!