We are just back from a two week break in Spain and the difference in Felix from when to left to when we got back is incredible. He started leap six while we are away and we've noticed that as well as gaining a lot of hair on his head, he's becoming much more adept at getting food in his mouth. The mess has reduced massively as his pincer grip has improved and he's enjoying a much wider range of foods now he's able to pick them up – including these baby hash brown potato cakes!
I must admit that on holiday we were pretty lazy with baby led weaning and he ate quite a few pouches, lots of bread and skipped quite a few meals as it was so hot. So now we're back, it's time to get back to routine and keep the healthy food coming. The cupboards were totally bare when we returned apart from eggs (which I always have a huge supply of in the fridge), potatoes (another staple) and frozen veg and this is how this baby led weaning hash brown potato cake recipe was born. I'm all about throwing together a few staple ingredients to create something yummy for the boys.
Grating sharp cheddar into the potato hash mix gives these potato cakes all the flavour you need, however if you want to add some spices such as pepper, cumin, paprika, onion powder or garlic, feel free to do so. Those spices will only add depth to the baby potato cakes' flavour.
These baby led weaning hash brown potato cakes can be batch cooked and stored in the fridge or frozen. As always, make sure they're fully defrosted before reheating and reheat in the toaster or under the grill for 5-10 minutes. Alternately, they can be served cold.
You can serve the baby potato cakes whole or cut into strips, depending on how old your baby is. They're perfect to throw into a lunchbox for a snack on the go and are a rest accompaniment to an evening meal main dish of fish or meat.
Let me know if you try these baby potato cakes and what you think. I literally cannot stop myself from eating them when I make a batch!
---
Once you've made these – why not try some more of my baby led weaning recipes?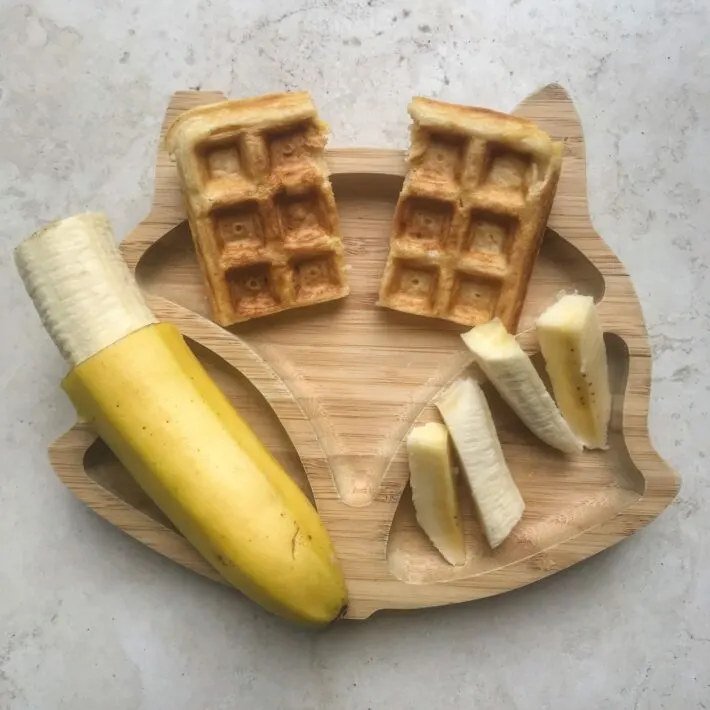 ---
If you enjoyed making this recipe, please:
Yield: 8 hash brown potato cakes
Baby Led Weaning Hash Brown Potato Cakes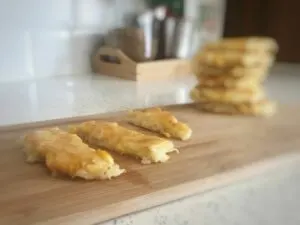 Quick and delicious hash brown potato cakes - perfect for baby led weaning!
Ingredients
1 large potato (around 220-250 grams)
1 egg
50 Grams Cheese
30 grams Sweetcorn (I used tinned but you could thaw some frozen)
2 tbsp plain flour
Instructions
Peel potato and grate it into a large bowl
Add grated cheese, an egg, 30g of sweetcorn and two tablespoons of flour and combine thoroughly
Heat a frying pan with a little oil, then using a spoon, add some of the potato mixture to the frying pan, flattening it with the back of the spoon to make a patty
Fry for a couple of minutes and then flip. Flatten again with the back of the spoon. You can cook as many as your frying pan allows (three or four)
The hash brown potato cakes should be browned on each side. Leave to cool before serving to baby- either whole, or cut into strips.
Nutrition Information:
Yield:
8
Serving Size:
1
Amount Per Serving:
Calories:

80
Total Fat:

3g
Saturated Fat:

1g
Trans Fat:

0g
Unsaturated Fat:

1g
Cholesterol:

29mg
Sodium:

54mg
Carbohydrates:

10g
Fiber:

1g
Sugar:

1g
Protein:

3g
Author: Nicola Hughes
Nicola has weaned both of her boys using the baby led weaning method. She loves nothing better than creating simple recipes that anyone can recreate, using as few ingredients as possible. All of her recipes have been tried and tested by both Dexter and Felix and have their seal of approval!