If you're in the mood for a warming and delicious family meal, but can't be bothered to cook a full roast dinner, then toad in the hole is the dish of your dreams!
I know a lot of my American readers will be wondering what on earth is toad in the hole, but trust me when I say this classic British dish is incredible.
It's super easy to make, tastes absolutely divine and is always a winner no matter who I serve it up to – adults, toddlers and babies all love toad in the hole.
Read on to discover my yummy toad in the hole recipe which is perfect for families. This toad in the hole is baby friendly so you can serve it to the whole family without the need to make something different for the adults!
What is toad in the hole?
Toad in the hole is a classic British dish made up of sausages and a crispy batter which we call Yorkshire pudding. It's a real comforting dish, perfect for wintery evenings and even cooler summer days.
We always make sure we use high quality sausages when making it and often choose to serve it when we are feeling a lit bit lazy, but still want that feeling that we've had a really yummy home cooked meal.
The Yorkshire pudding batter is the same as what you use to make pancakes – flour, eggs and milk combined which when placed in the oven, rises to create both a crispy and soft 'pudding'. It honestly tastes way more delicious than it sounds!
Is toad in the hole good for you?
Like everything, this meal should be eaten in moderation. It's quite a fatty meal, but we always make sure we serve with tons of different veggies to make sure the kids are getting their nutrients.
It isn't something we would eat everyday or even every week, but that just makes it even more enjoyable when we do have it. We always choose high quality sausages that contain a high percentage of pork so that they, at least, are as healthy as they can be (for sausages).
How do you serve toad in the hole to babies?
I've seen a few posts out there for individual portion recipes for babies, but we much prefer to make a family sized toad in the hole and divide it up so everyone can dig in.
It will depend on the age of your baby for how you cut it up to serve it to them. For Felix (who is 18 months) we cut the sausages up, cut the Yorkshire pudding into grab-able piece (although he is trying at the moment to stab things with a fork in an attempt to use cutlery) and dotted over a small amount of low-sodium gravy.
Felix has been using his Nuby booster seat more and more recently to sit at the table with us, we let him eat this on his highchair so he had his huge tray on which he could make a mess with the gravy and veggies.
For younger babies, you may want to cut the sausage and Yorkshire into finger sized pieces so they can easily grab and feed themselves. You may also want to avoid offering gravy altogether – but we love it!
More family meals:
What can I serve alongside this toad in the hole recipe?
We serve a variety of vegetables – carrots, broccoli, sugar snap peas, cauliflower, beetroot, green beans – the list is endless! Some people like to have mashed potato with toad in the hole too, but we find that it's 'carby' enough as it is.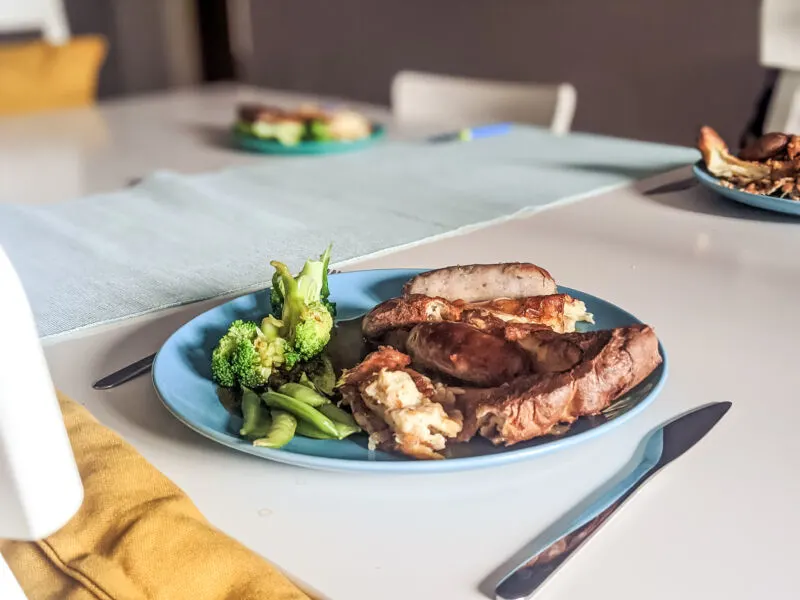 If you enjoyed making this recipe, please:
Toad in the Hole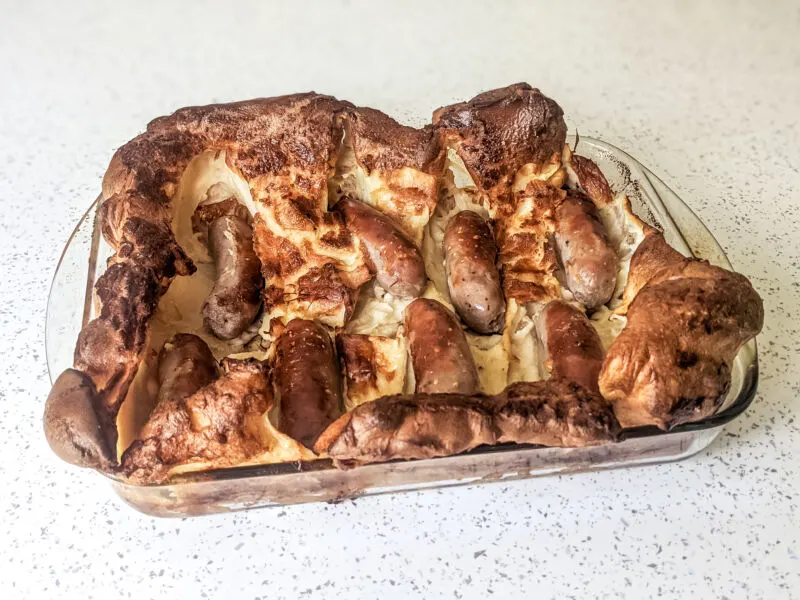 A delicious British classic! Toad in the Hole makes the ultimate family recipe for those winter evenings when you want to reach for the comfort food!
Ingredients
2 tbsp olive oil
10 sausages
1 cup plain flour
4 eggs
250 ml whole milk
whatever veggies you fancy
Instructions
Add oil to the bottom of a large baking dish, pop in the sausages and place in an oven set to 200C. Leave for ten minutes.
Meanwhile, in a bowl combine flour, eggs and milk until you have a batter. Add pepper to taste.
Once the sausages have had ten minutes, pour the batter over them in the baking dish and pop back in the oven for 30 minutes.
Serve alongside fresh vegetables such as broccoli, carrots, cauliflower, sugar snap peas etc and a dollop of gravy.
Nutrition Information:
Yield:
4
Serving Size:
1
Amount Per Serving:
Calories:

821
Total Fat:

62g
Saturated Fat:

20g
Trans Fat:

0g
Unsaturated Fat:

35g
Cholesterol:

296mg
Sodium:

1516mg
Carbohydrates:

31g
Fiber:

2g
Sugar:

6g
Protein:

33g
Author: Nicola Hughes
Nicola has weaned both of her boys using the baby led weaning method. She loves nothing better than creating simple recipes that anyone can recreate, using as few ingredients as possible. All of her recipes have been tried and tested by both Dexter and Felix and have their seal of approval!