Before buying our own home last year, my husband and I rented for six years, firstly as a couple in Manchester and later as a family of three in Liverpool.
Renting as a couple is a lot different to renting as a family thanks to the destructiveness of cruising babies and inquisitive toddlers. As a couple we always got our deposit back whenever moving onto the next place, but things got a little trickier when we had a little one in the house too.
Even if the person you're renting from has landlord insurance, they will still charge you for every bit of damage by deducting the total from your deposit. So how can you prevent this?
When we moved into our first owned home and finished the tenancy with our landlord, we were expecting to lose pretty much the whole of our £650 deposit, but thanks to a few tricks, we only lost a couple of hundred. If you're due to move out of rented accommodation soon, keep reading to find out how you too can get back the majority of your deposit.
Baby proof your home
If you're renting as a family with a young child, the most important thing you can do is baby proof your home. Our toddler managed to smash the glass in the oven (we're still not sure exactly how!), damage the dishwasher door by pulling up on it as a baby and he made multiple stains all over the carpet by spilling milk and wandering around with bananas.
There are lots of ways to baby proof your home such as investing in decent baby gates and making sure you restrict food and drink to laminate floored areas. The cost of replacing the carpet came out of our deposit as the stains were more than just general wear and tear, but thankfully thanks to the following tips, that was our only cost
Replace broken items cheaply
As I mentioned, the oven glass in our old rented apartment smashed one day and we decided that once we got the go ahead to end our tenancy that we'd replace that ourselves as the cost was a lot cheaper than what our letting agents said it would cost. It took a bit more organising on our part but was worth it to save a few extra pounds to put towards our moving costs. Local Facebook groups are great for looking for recommendations for people who can do small jobs like these!
Be good tenants
It goes without saying that you should always pay your rent on time, let your landlord know as soon as you have any issues, whilst making sure you're not bothering them too much. We lived in our apartment block for nearly three years and we never caused our landlord any issues by keeping noise to a minimum, following the complex's rules and setting up a standing order for our rent to make sure we never missed a payment.
When it came time to move out and the letting agents were looking at some of the issues like pen on the wall drawn beautifully by our toddler or the stain on the laminate floor where my husband had put his turbo trainer, they were really good about marking a lot of stuff down as general wear and tear as we'd been such good tenants over the years.
Deep clean
The most important thing to do when you move out is to deep clean the property so it's in the exact same state it was when you moved in. Cleaning charges can be a hefty deduction from your deposit so by doing the work yourself or choosing a firm to do it for you, you can save money which can be put towards furniture for your new home. If you're looking for cleaning inspiration then watching a few of Mrs Hinch's stories should get you in the mood for a good clean!
Remove every single item when you move out
When we moved out of a rented apartment in Altrincham, we forgot to remove a frisbee which had fallen behind the washing machine and were charged a cleaning fee for the privilege! Some letting agents will find any excuse to charge fees when you move out, so ensure you get every single last belonging – even stuff you think may be useful to the next tenant such as toilet roll and cleaning products – it's just not worth the risk!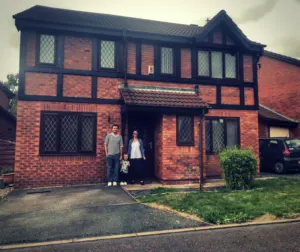 Hopefully these tips will make sure you get the majority, if not all, of your deposit back when you move on from your rented accommodation, but if not, don't forget about the deposit protection scheme. The DPS look after your deposit while you are renting and will adjudicate fairly over any disputes regarding getting your deposit back. So, if you feel your landlord is unfairly charging you for damage you didn't cause or you feel is general wear and tear, you can raise your concerns with them and they'll fight your corner.