January 2020. It was't a month that I was particularly looking forward to. I knew months before I gave birth to Felix, that this would be the month in which I returned to work after my maternity leave. Of course, I had no idea then, that it would be to a brand new job in digital marketing.
Being a full time working Mum of two is no easy feat. Heck, it was hard enough when there was only one of them. Dexter's younger toddler years passed me by in a blur as I juggled a hefty commute, housework, a demanding managerial job and balancing all of that with this blog and I am determined that the same won't happen again with Felix.
One of the perks of my new job is that it is Monday-Friday and no weekend work is required. This gives our family some much needed time to regroup, spend quality time together and find some adventures that we will all enjoy. It has felt like a lot of this month has been blighted with sickness and illness, but we've still had a cracking time, making the most of the wonderful things to do in the beautiful counties of Lancashire and Merseyside.
Hesketh Park, Southport
Our favourite park in our local area has to be Hesketh Park. We've been lucky enough to visit a couple of times this month, one time meeting up with friends meaning the boys got a good play date out of it too. Earlier in the month, Dexter practised riding his new bike through the winding paths of the vast wooded expanse and Felix enjoyed the swings and looking at the ducks in the lake. Hesketh Park gets pretty chilly this time of year and although it's lovely to wrap up warm, we are indeed looking forward to the warmer months of Spring to enjoy the park more freely.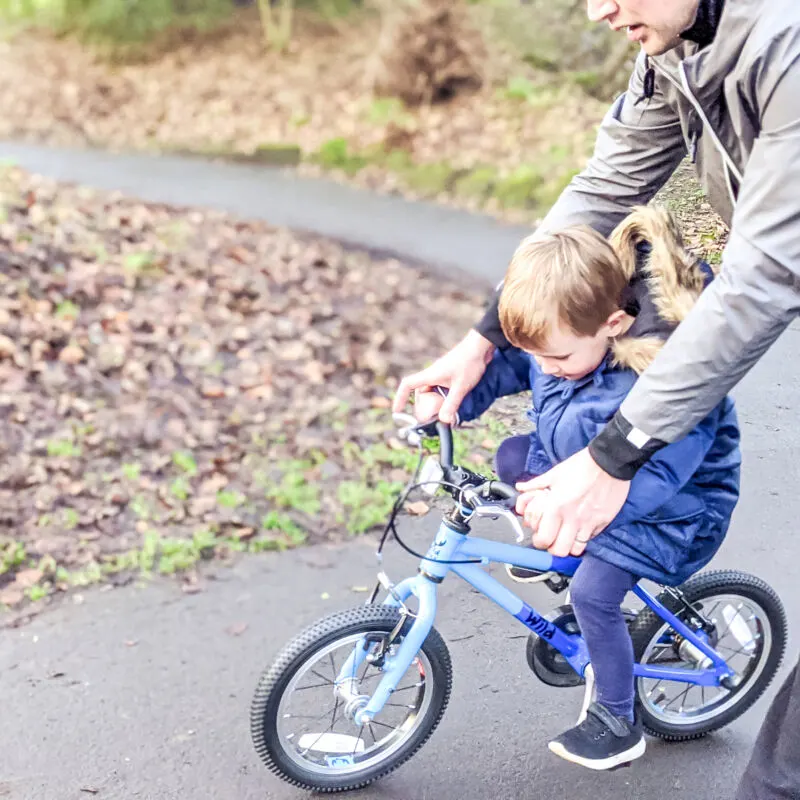 Brew and Buddies Soft Play, Burscough
A new soft play opened in our local village and we took the boys one rainy morning to explore what it has to offer. It was amazing to bump into our friends there (isn't life in a village wonderful, that you are always amongst friends, wherever you go!) and the boys loved playing alongside their peers. Felix particularly enjoyed the baby area and I was happy with a hot cup of coffee while Dexter played safely within arm's reach. A new favourite place to head to on those drizzly, grey days!
Ainsdale Beach, Southport
We have loved Ainsdale beach since we moved to Lancashire. It was always easier to go to Crosby when we lived in Liverpool, but now Ainsdale is much closer and in my opinion, so much nicer. In the Summer months, Dexter, Felix and I were there regularly, enjoying the sun rays and swimming in the sea; January at Ainsdale beach is a totally different kettle of fish though!
We visited a couple of weeks ago towards the latter half of the afternoon, and the light from the setting sun was absolutely incredble. We explored the sand dunes and chased each other until we could barely breathe, before walking out to the sea which seemed to get further and further away, with every step we took. Felix sat happily in the Mountain Buggy Juno baby carrier, while Dexter ran and giggled, soaking in every sight and smell of the beach.
Manchester City Centre
Last weekend, Dexter and I decided we'd quite like a Mummy and son day out, so we hopped on the train to Manchester. Dexter loves the train and he really enjoyed learning about each stop including Bolton – where our football team plays, Farnworth – where Grandma went to school and Salford – where Uncle Billy used to live.
Once we got into Manchester, we did a little bit of shopping before sitting down for a Pizza Hut. Dexter ate every single scrap of his pizza and sat at the table the whole time like such a good boy. Later, we walked around the city and found a huge blue door, as big as a giant, before getting back on the train and heading home.
January, you have been an amazing month. Yes, there has been some hard moments with illnesses and the guilt of being at work five days a week, but on the whole, we've loved every second. February – we're ready for you!