Zimpli Kids have racked up over SEVEN BILLION views on YouTube, so I doubt there is a kid in the land who hasn't seen or heard about their fantastic toy products for kids.
They kindly sent us a range of their products to try out and my three year old toddler was genuinely thrilled.
Gelli Baff
Dexter loves his baths and can spend hours in one playing with his toys. When I produced the Gelli Baff packet he was beside himself after seeing Yakka Dee using it on CBeebies.
The product is simple to use. You fill the bath with warm water so it's about 4cm deep and then you sprinkle the Gelli Baff crystals into the water. Using my hand, I stirred the bath water for a couple of minutes and the water began to thicken until it was totally jelly-like!
At first Dexter wasn't sure of the feel of it and nearly decided he didn't want to give it a go at all. However, after adding a bit more water to loosen it a little, he jumped in and had loads of fun.
To get rid of the Gelli Baff, there's another sachet with salt crystals which work to break up the jelly. I used the shower to get the last few crystals off Dexter's body and the side of the bath and was really pleased with how quickly it all washed away.
We used a scented version of Gelli Baff a few days later using a washing up bowl to create a fun sensory activity. I made up the Gelli in the bowl and hid plastic farm animals inside for Dexter to dig and find. I've never seen him so quiet for so long!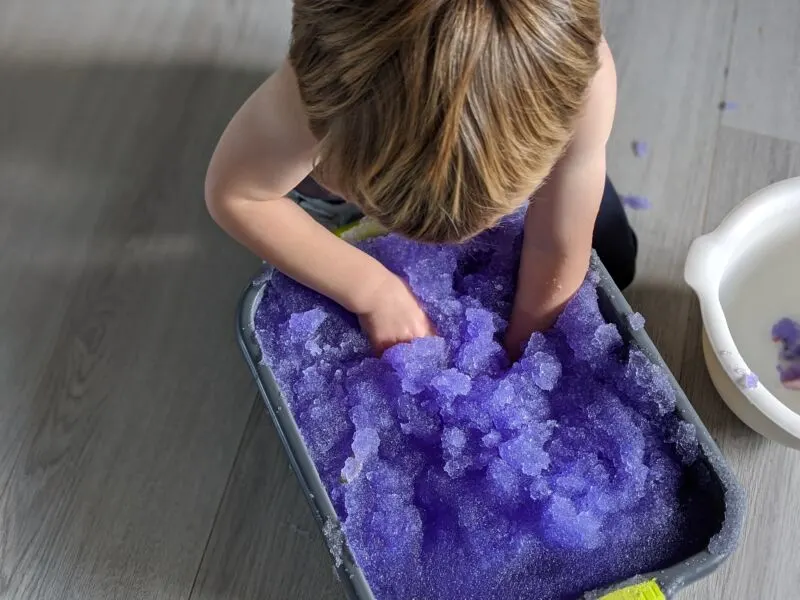 Chocolate Emoji Maker
I think Dexter was most excited about the Chocolate Emoji Maker as he is a proper chocolate fiend! While his little brother was napping we got the set out to play with.
The pack comes with two trays so you can make two chocolate emojis, plus two packs each of milk, dark and white chocolate. There are also paper templates of emojis which you can cut out to make your chocolate.
After melting the packets of chocolate in some warm water, I cut a tiny hole in the corner of the packet, lined up my template with the tray and got to work tracing the lines. Once it was done, we popped the tray in the fridge for the chocolate to set and then I had to deal with Dexter asking me every two minutes for the next half an hour if he could eat it yet!
This toy is aimed at older kids than Dexter, at three years old he was too little to do the actual drawing of the emoji using chocolate, but he sure did have fun eating it! Naturally, he chose the most complicated emoji for me to draw and the result wasn't perfect, however he did allow me to have a cheeky bite of his chocolate and it tasted AMAZING!
Crackle Baff
The Crackle Baff works in the same way as the Gelli Baff in that you run the water first, then sprinkle the crystals into the water. This makes the water turn pink while it crackles like rice crispies which Dexter found very exciting. It was certainly a fun way to start off bath time and didn't require any cleaning up!
Snoball Battle
Winter is well and truly here but the likelihood of snow is slim – however who needs the real thing when Zimplikids have their Snoball Battle product which creates up to 30 or 60 snow balls perfect for a snowball fight in the garden!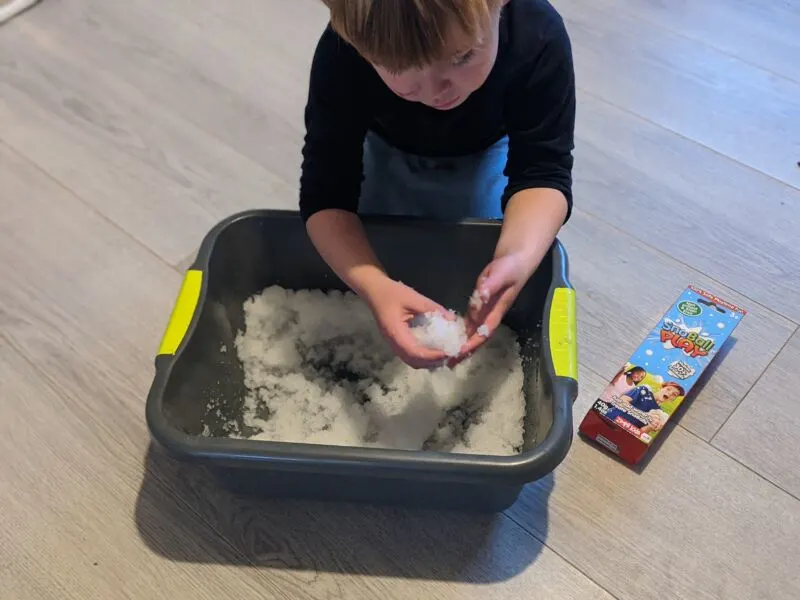 The snoballs are so easy to make. I added the powder to a washing up bowl, 1200ml of water and then stirred the mixture with my hand until the snow formed. The snoballs were easy to form and once we had made twenty or so, we went out in the garden and let loose!
To clean up, the snow needs sweeping up and can become very slippy if you walk on it – so be very careful!
Now you've seen how the products work, it's your turn to have a go and luckily I'm giving away a range of Zimpli Kids toy products worth £17.97 including Snoball Battle, Glitter Slime Baff and Unicorn Slime Play which would make the perfect stocking fillers this Christmas. Entry is via Rafflecopter below.