One of the most popular recipes on this site is my hash brown potato cakes recipe for babies. So, of course I had to try making this again, but this time with sweet potato. So here are my baby led weaning sweet potato hash brown potato cakes!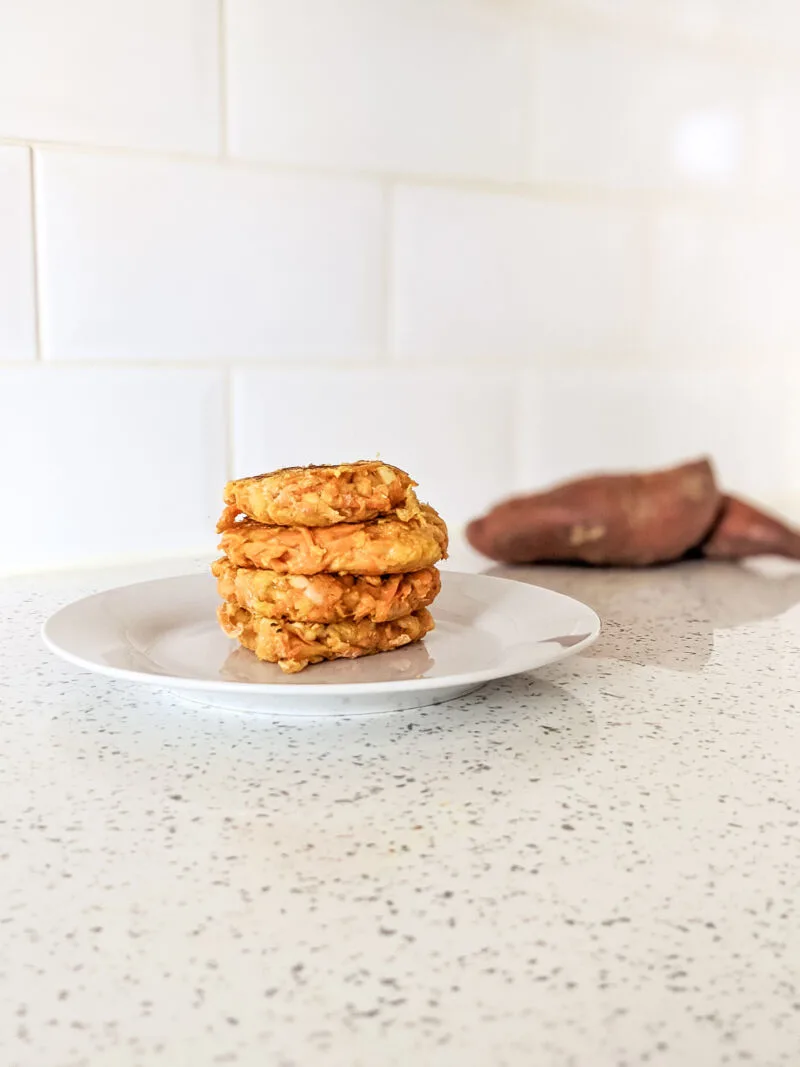 Why choose sweet potato for baby led weaning?
I am a huge fan of using sweet potato in the recipes I create thanks to its nutritional goodness. We try to offer baby sweet potato at least once a week and find it so versatile in the way it bulks up family meals such as curries, soups and casseroles.
We've used it to make pancakes, burgers, fritters and so many other fun and healthy recipes.
Sweet potatoes can be grated, sliced, mashed or spiralized – the options are endless!
Why choose sweet potato for baby led weaning?
Rich in vitamin C
They contain tons of vitamin B6
A good source of potassium and magnesium
Great for heart and brain health
Amazing fuel source for energy
More Sweet Potato Baby Led Weaning Recipes:
Delicious sweet potato hash browns
Both the baby and my older one love these sweet potato hash browns. They are the perfect side dish at breakfast time along with some bacon or eggs or they make a delicious lunchtime treat!
The great thing about these is they can be batch made and then stored in the fridge or freezer until a later date! Perfect for busy mums!
Easily-adapted baby led weaning recipe
This recipe can easily be adapted to suit your family's diet. Egg free? Forget the egg and use flax-egg instead. Vegan? Remove the cheese and replace with a vegan-friendly option (or simply leave out all together!) Gluten-free? Use an alternative flour!
You can also add a range of other grated veggies into the mix to make these a little more colourful. Why not try:
Carrots
Courgette
Butternut squash
Pumpkin
Broccoli
Beetroot
If you enjoyed making this recipe, please:
Yield: 4 potato cakes
Baby Led Weaning Sweet Potato Hash Brown Potato Cakes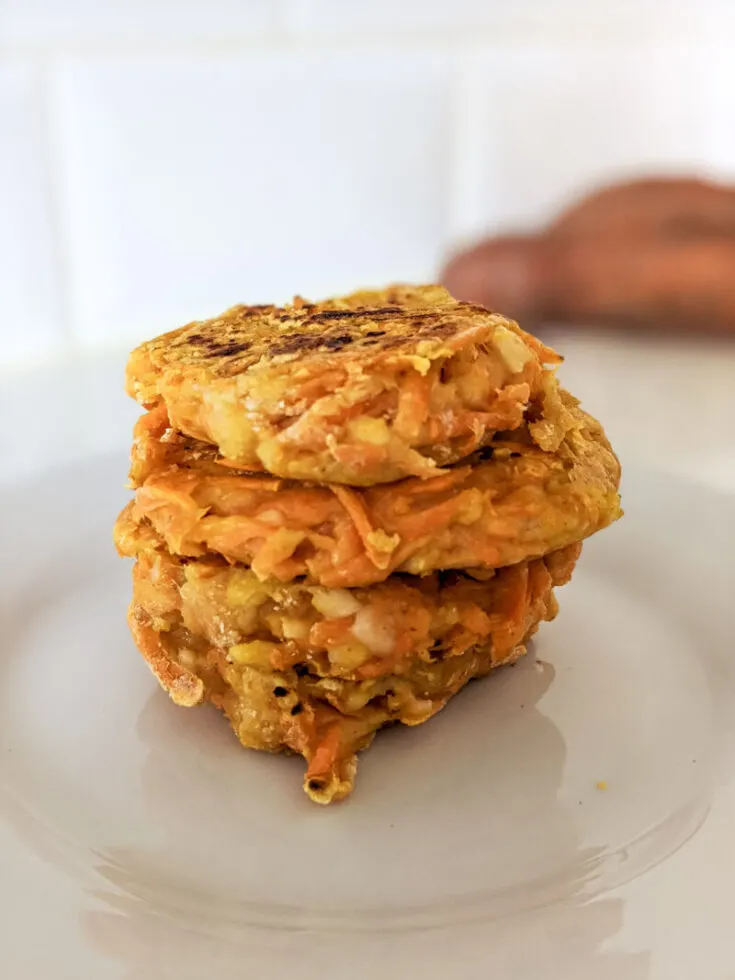 Simple recipe to create delicious baby led weaning hash browns using sweet potato.
Ingredients
200 grams sweet potato (grated)
2 heaped table spoons of plain flour
30 grams sharp cheddar
1 egg
1 tsp onion powder (optional)
1 tsp garlic powder (optional)
Instructions
Grate sweet potato into a bowl and then add flour, egg, cheddar and spices (if using)
Throughly combine.
Heat oil in a frying pain and use a table spoon to create four patties.
Cook for four minutes on each side or until browned.
Leave to cool before serving to your baby.
Nutrition Information:
Yield:
4
Serving Size:
1
Amount Per Serving:
Calories:

212
Total Fat:

4g
Saturated Fat:

2g
Trans Fat:

0g
Unsaturated Fat:

2g
Cholesterol:

54mg
Sodium:

86mg
Carbohydrates:

35g
Fiber:

3g
Sugar:

3g
Protein:

8g
Author: Nicola Hughes
Nicola has weaned both of her boys using the baby led weaning method. She loves nothing better than creating simple recipes that anyone can recreate, using as few ingredients as possible. All of her recipes have been tried and tested by both Dexter and Felix and have their seal of approval!