Looking for a delicious and quick breakfast or lunch recipe? Try these sweet potato pancakes baby will love! Not only do they use two simple ingredients, but they're delicious and healthy too boot!
Why offer sweet potato to your baby?
Rich in vitamin C
Sweet potato contain tons of vitamin B6
A good source of potassium and magnesium
Great for heart and brain health
Amazing fuel source for energy
More Baby Led Weaning Sweet Potato Recipes:
What sort of sweet potato should I use?
Sweet potato is packaged and sold in many different formats including frozen, fresh or pureed in a can.
I have made this recipe using both frozen and fresh sweet potato and either works really well!
Having a stash of frozen sweet potato is always handy to have in the freezer so you can throw it into curries or use it to make recipes such as these sweet potato pancakes or sweet potato fritters.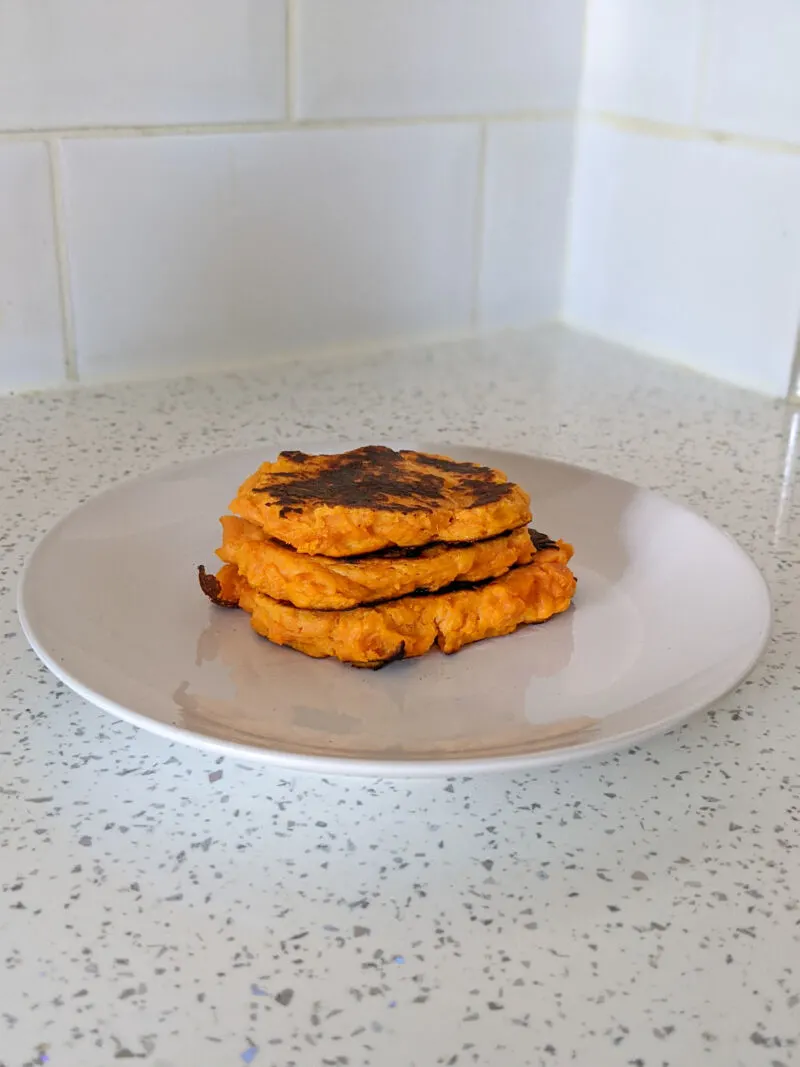 How do you make sweet potato pancakes for baby?
Get a medium sweet potato and steam until soft, then mash it with the back of your fork until a puree forms.
Add one egg and whisk the concoction together with a fork until it became batter-like.
Use any oil or butter to grease the pan, this time I used fry-light for ease. I then dolloped 2 – 3 tablespoons of the batter into the pan.
Leave the sweet potato pancakes to fry for 2-3 minutes before tentatively turning them with a large spatula. This bit can get pretty messy, just make sure you take your time and don't panic if a bit of the batter comes loose. A nice hot hob helps!
Once flipped, press down on the pancakes with your spatula to flatten them slightly and ensure they are cooked right through. Leave them again for another 2-3 minutes.
How to serve sweet potato pancakes to your baby
Once cooked, I placed sweet potato pancakes on our Munchkin White Hot Plates
to cool (these clever plates tell you when the food has sufficiently cooled enough to give to baby) and then serve them alongside some fruit.
Related Post: 50 Baby Led Weaning Breakfast Ideas
What do the babies think of sweet potato pancakes?
These sweet potato pancakes are super easy for baby to pick up and very soft so they smush easily in baby's mouth. They do create a lot of baby led weaning mess though, as they easily fall apart in baby's hand. Dexter had lots of fun trying to pick up the bits that fell apart though.
More Baby Led Weaning Pancake Recipes:
If you enjoyed making this recipe, please:
Yield: 4 pancakes
Sweet Potato Pancakes for Baby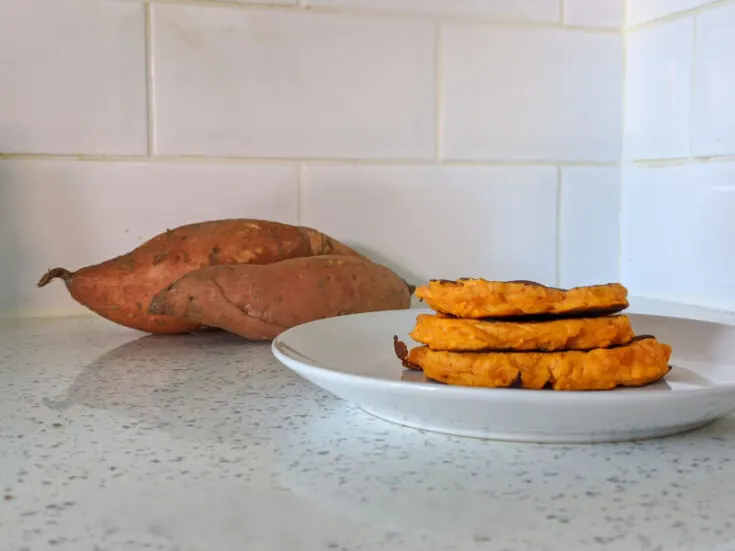 A quick and simple recipes to create sweet potato pancakes baby will love! The perfect baby led weaning lunch idea or an ideal for batch cooking for snack on the go!
Ingredients
150-200 grams of sweet potato (small - medium sized sweet potato)
1 egg
Instructions
Steam the sweet potato until softened then place in a bowl and mash with the back of your fork.
Add an egg to the bowl and then mix the two thoroughly until a batter is formed.
Heat a little oil in a frying pan and let the pan heat up. Turn the heat down once hot.
Using a table spoon, spoon the 2-3 spoons of mixture into the frying pan per pancake.
Fry for 2-3 minutes on each side (or until browned).
Be very careful when flipping them and once flipped, flatten them with the back of your spoon or spatula.
Once cooked, leave to cool before serving to baby. Serve them as they are or cut into strips for easy handling.
Nutrition Information:
Yield:
4
Serving Size:
1
Amount Per Serving:
Calories:

6768
Total Fat:

12g
Saturated Fat:

4g
Trans Fat:

0g
Unsaturated Fat:

8g
Cholesterol:

47mg
Sodium:

2718mg
Carbohydrates:

1553g
Fiber:

248g
Sugar:

486g
Protein:

152g
Author: Nicola Hughes
Nicola has weaned both of her boys using the baby led weaning method. She loves nothing better than creating simple recipes that anyone can recreate, using as few ingredients as possible. All of her recipes have been tried and tested by both Dexter and Felix and have their seal of approval!