For Valentine's Day, my husband and I decided to treat ourselves to a fancy three course meal at home – but what about the kids?! Well, we let them have this DELICIOUS fish and chips for kids as a loving treat!
If you're looking for easy fish recipes for toddlers and kids, you've found one! Our four year old and two year old toddler gobbled this meal up and now every week all we hear is 'we want fish and chips!'
Easy fish recipes for toddlers and kids
Fish is an important part of our diet. Not only is it full of omega-3 fatty acids, an essential fat which promotes cardiovascular health, but it's also rich in calcium and phosphorus and a great source of minerals, such as iron, zinc, iodine, magnesium, and potassium. Phew!
We try to eat fish once a week and attempt to mix it up by trying different types of fish. After all, variety is the spice of life!
Fish and chips – a quintessential British teatime treat
Think of Britain and what's the first food that comes to mind? For me, it's fish and chips on the promenade at one of our blustery seaside resorts. Fish and chips is absolutely a quintessential British teatime treat!
Fish and chips first appeared in the UK in the 1860s and by the 1930s there were over 35,000 fish and chip shops! It's popularity hasn't waned much over the years and many of us Brits love a Friday night chippy tea!
Of course, this teatime treat isn't exactly healthy, so replicating it at home is a bit better for the kids!
What sort of fish do I use?
I like to buy a range of fish, but my favourites to use in this recipe are cod and haddock. Fish isn't the cheapest, but we make an effort to stock up on our monthly shop, creating a range of family recipes such as salmon pasta bake, crispy Lebanese fish and rice and cod, chorizo, sweet potato and kale jumble!
More family recipes: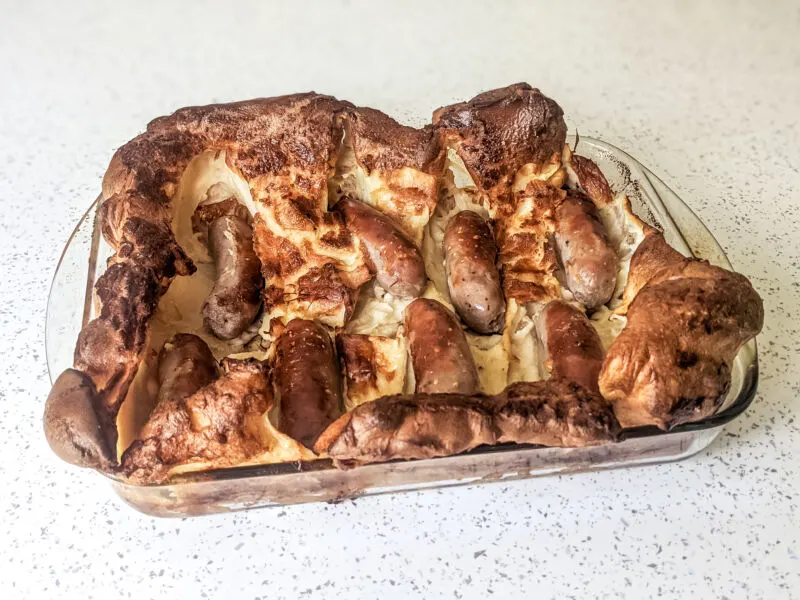 If you enjoyed making this recipe, please:
Yield: 2 portions
Easy Fish and Chips for Kids
Easy and delicious fish and chips for kids! An easy fish recipe for toddlers and kids that creates delicious fish and chips! It's just like being at the seaside!
Ingredients
1/2 cup sunflower oil
1/2 cup cornflour
zest of one lemon
1 fillet of fresh fish
peas and fries to serve
Instructions
Heat the oil in a wide frying pan on medium heat - be careful as hot oil can burn!
Meanwhile, add cornflour and the zest of a lemon to a bowl and stir to combine.
Cut up the fish into smaller chunks and place the chunks in the bowl until they're all coated in the cornflour/zest mixture.
Carefully place the fillets (using tongs if you have them) into the frying pan and fry for five minutes on each side.
Once fried, take them out of the pan (again using tongs!) and place on kitchen towel so most of the oil is absorbed.
Serve alongside fries and peas and a wedge of lemon for squeezing!
Author: Nicola Hughes
Nicola has weaned both of her boys using the baby led weaning method. She loves nothing better than creating simple recipes that anyone can recreate, using as few ingredients as possible. All of her recipes have been tried and tested by both Dexter and Felix and have their seal of approval!