When your baby reaches around 8-9 months, you may see that their milk intake drops slightly and instead they're looking for a snack when they maybe used to be having a bottle or breastfeed. Finding the perfect baby led weaning snacks can be difficult – suddenly you've got to think about another couple of items of food you have to organise every day, but don't worry – we've got you covered! This article has all of our favourite tried and tested baby led weaning snacks, including baby led weaning snacks on the go!
Muffins and Cakes
Muffins are the perfect baby led weaning snack because they can be batch cooked and frozen for future snack times. I like to create a range of sweet and savoury muffins for baby so they are constantly experiencing lots of different tastes and textures. We are also fans of this baby friendly lemon cake which yields eight slices and so can be used as a snack in moderation over a few days. Some of our favourite muffin recipes include:
Raspberry Baby Led Weaning Muffins
Broccoli and Courgette Savoury Muffins
Cookies and Biscuits
There are hundreds of baby led weaning friendly cookie and biscuit recipes out there and as long as they're offered in moderation, baby led weaning cookies can be the perfect snack for growing babies.Here are some of our favourite baby led weaning cookie recipes:
Banana, Peanut Butter and Oat Cookies
Sweet Potato and Banana Baby Led Weaning Cookies
Blueberry and Banana Oat Bakes
Strawberry and Coconut Cookies
Pinwheels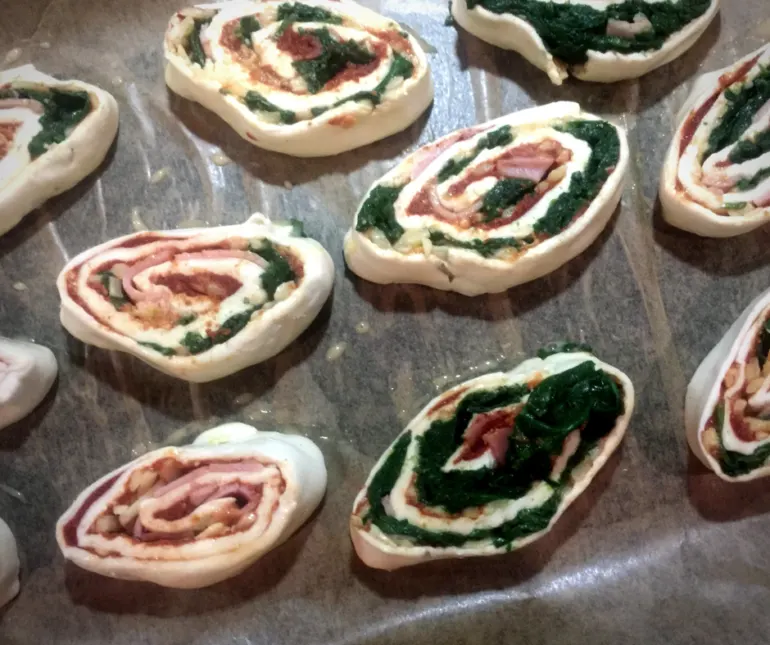 Pinwheels are a great little snack that you can batch make and then grab out of the freezer. They are tasty and filling and super healthy if you pack them with veggies. I love things that I can batch make and I always have an endless supply of pinwheels going in my freezer. Some of our favourite fillings include:
spinach, cheese and ham (recipe here)
cream cheese and tomato
kale and feta
chicken and bacon
minced beef
tuna and sweetcorn
banana and nutella (for a special occasion!)
Related Post: 50 Baby Led Weaning Breakfast Ideas
Pre-packaged Baby Led Weaning Snacks
Pre-packaged baby led weaning snacks definitely have their place in our life as they are great for quick baby led weaning snacks on the go. It can be difficult to constantly have something freshly made available and the following list shows our favourite baby led weaning snacks available in your local supermarket for ease and convenience.
Yoghurt Pouches
Giving yoghurt on a pre-loaded spoon can be a messy business and really, when it is snack time, you want it to be a quick and easy affair. Serenity Kids do some yummy yoghurt pouches which baby can hold and squeeze into his mouth or you could buy these Fill n Squeeze pouches from Amazon and fill them yourself with Greek or natural yoghurt and fruit puree.
Kiddylicious Wafers
These wafers are so popular among the Mums I know. They come in a wide range of flavours and don't contain any gluten, milk, nuts, egg, artificial colours/flavours or added preservatives. When baby gets a little tetchy when we are out and about in the pram, one of these wafers usually sates him until we can sit down for some proper food and the best bit- there is hardly any baby led weaning mess!
Ella's Kitchen Melty Puffs
Melty puffs are organic crisp like snacks perfect for babies who need a little on the go snack which come in a vast range of flavours. Our favourites are the carrot and parsnip ones.
Organix Rice Cakes
Organix have so many great snacky products but my favourite have to be their rice cakes. I love that I can spread a bit of peanut butter on them or give them as they come when we are out and about in the pram. Just like Ella's melty puffs, these rice cakes come in a vast range of flavours. If you are looking for a cheaper alternative, Tesco and Aldi both do baby rice cakes at half the price.
Ryvita Crackerbreads
I love Ryvita crackerbreads, they are perfect for baby led weaning because they are easy to pick up and even easier for baby to chew/gum. I like to spread tahini on them to give an added iron boost, but hummus, peanut butter or avocado works pretty well too.
Best of the Rest Baby Led Weaning Snacks…
Egg Muffins
An egg muffin is a great healthy snack especially if you've packed it full of yummy veg. What's more, they are super filling and should keep baby going until his next feed/meal.
Piece of Fruit
Who can forget the traditional piece of fruit. A satsuma, plum, banana or apple is a great afternoon snack. For older babies, I take the stone out of the plum and give them the two halves to eat. My babies have always sucked out the flesh and spit out the skin. Satsumas, I break into segments and bananas I slice. I still like to microwave apples in a little water, so they are tender, but not completely soggy. We are also a huge fan of grapes, which I quarter; blueberries, which I squish and tomatoes which I also quarter.
Veg Sticks
I love to cut up fingers of cucumber, pepper and carrot to offer baby as a little snack. They're great for soothing sore gums when he is teething and let him practise chewing on something a little harder. Can't get much healthier than a veg stick!
I hope this post has given you some inspiration for some baby led weaning snacks. What do you offer your baby for a snack? Anything I've missed?