This recipe came to me one morning when I was thinking of what to do with a very ripe and lonely old banana in my fruit bowl. Since publishing this baby led weaning peanut butter cookies recipe, it has become one of my most popular blog posts – Mums just love the super simple healthy cookies for babies recipe!
How many calories are in these baby led weaning cookies?
These baby led weaning peanut butter oat cookies are delicious, soft, and healthy. I didn't add any sugar to sweeten them and they definitely don't need it. They come in at 73-76 calories per cookie, so they're also a great addition to a lunchbox as a healthy snack. This recipe makes nine cookies, but you can just double the quantities to make more.
Related post: Baby Led Weaning Pancakes
Can you change the ingredients in this cookie recipe?
If you want a sweeter cookie, you can add chocolate chips, blueberries or crushed raspberries to give them an extra kick.
If your baby has an egg allergy you can replace the gg with a flax egg. I haven't tried this myself (1tbsp flaxmeal + 2.5 tbsp water) for this particular recipe, so do let me know in the comments if it works for you.
Can you freeze these peanut butter cookies for babies?
I have to say I have not attempted it – they are usually all eaten up before I've had the opportunity to try! So do let me know in the comments if freezing works for these cookies…and if you do try to freeze them, be sure to let them fully defrost before offering them to your baby.
What do my family think of these baby led weaning peanut butter cookies?
The first time I made these BLW cookies, I let my husband try them before offering to them to Dex. Let's just say Dex was lucky there were any left for him to have for breakfast!
These cookies are soft on the inside and are extremely moreish!
How do you make these healthy cookies for babies?
Check out the videos below posted by my friend Kris who decided to make these cookies with her boys Max and Kai. You will see how easy these BLW cookies are to make and how you can get your kids involved to help too!
---
Once you've made these – why not try some more of my baby led weaning recipes?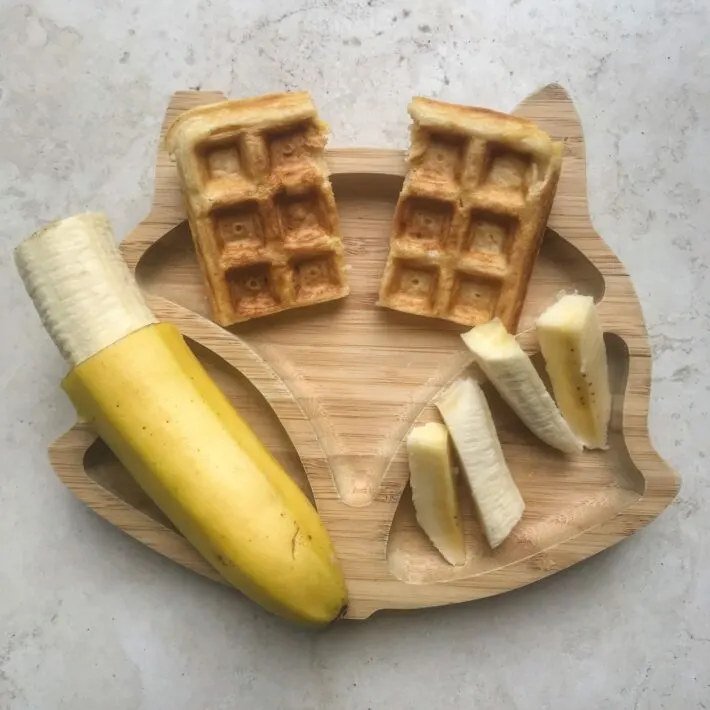 ---
If you liked this post then you have to read my guide to the must have products for baby led weaning!
If you enjoyed making this recipe, please:
Yield: 9 cookies
Baby Led Weaning Peanut Butter Cookies
These banana and peanut butter oat baby led weaning cookies are delicious, soft, and healthy. Perfect for babies and adults alike!
Ingredients
1 banana
60g rolled oats
3 tbsp peanut butter
1 egg
handful of blueberries (optional)
Instructions
Preheat oven to 180C
In a bowl, mash a banana with a fork. Crack in an egg and combine. Add in the oats and stir together. Finally, add the peanut butter and mix until a sticky dough is formed. Stir in some blueberries for an extra taste sensation.
Line a baking tray with grease proof paper and dollop tablespoons of the mixture on to it. Flatten each dollop with the back of your spoon and shape into circles.
Bake for 10-12 minutes. Cook for longer if you want a crispier cookie, but 12 minutes will suffice for a soft cookie suitable for BLW.
Leave to cool for at least 15 minutes before consuming.
Nutrition Information:
Yield:
9
Serving Size:
1
Amount Per Serving:
Calories:

76
Total Fat:

4g
Saturated Fat:

1g
Trans Fat:

0g
Unsaturated Fat:

2g
Cholesterol:

21mg
Sodium:

34mg
Carbohydrates:

9g
Fiber:

1g
Sugar:

2g
Protein:

3g
Author: Nicola Hughes
Nicola has weaned both of her boys using the baby led weaning method. She loves nothing better than creating simple recipes that anyone can recreate, using as few ingredients as possible. All of her recipes have been tried and tested by both Dexter and Felix and have their seal of approval!