Breakfast is my favourite meal of the day when it comes to baby led weaning. For me, it's the easiest and most relaxed meal and I love how many different varieties of foods you can offer. As much as I love the ease of toast or buttered crumpets, there's something a bit more exciting about offering pancakes or waffles and I've found it easier this time around to batch cook them both. These sweet potato waffles for babies are a fantastic finger food for your weaning baby, incorporating veggies to give a nutritional boost and perfect for freezing for future breakfasts.
For this recipe, I used frozen sweet potato chunks which I buy from Morrisons for £1 a pack. Of course, they can be substituted for a fresh sweet potato. I've also used the same recipe, but swapped the sweet potato for butternut squash cubes and this has worked really well too.
The sweet potato waffles for babies recipe makes around six waffles (which you can see from my waffle maker is three batches worth). I then cut the waffles in half so I have 12 portions and when Felix first started weaning, I cut them up again into strips.
The waffles can be frozen for up to three months and if you want to quickly defrost them, you can pop in them in the toaster on a low setting and cook until heated through. Make sure they're cooled enough before offering to baby though! They can also be kept in the fridge for a couple of days too.
As baby grows, experiment with some different toppings. We like greek yoghurt, nut butter or cream cheese and strawberries. We offered these waffles from six months as part of baby led weaning, but if you are using the traditional weaning method, wait until baby is comfortable with finger foods.
Felix loves these waffles and despite only having two teeth, will swill them around his mouth until they become mush. Our toddler, Dexter is also a fan, but only because he doesn't realise there's sweet potato in them!
Let me know if you try these sweet potato waffles for babies and what you think!
More Baby Led Weaning Sweet Potato Recipes:
What waffle maker do you use?
I use a VonChef waffle maker available on Amazon for less than £20*! We've had it a number of years now, so can definitely recommend it's excellent value for money.
It makes two waffles at a time, however I usually cut these waffles in half so it feels more like four.
If you enjoyed making this recipe, please:
Yield: 6 waffles
Sweet Potato Waffles for Babies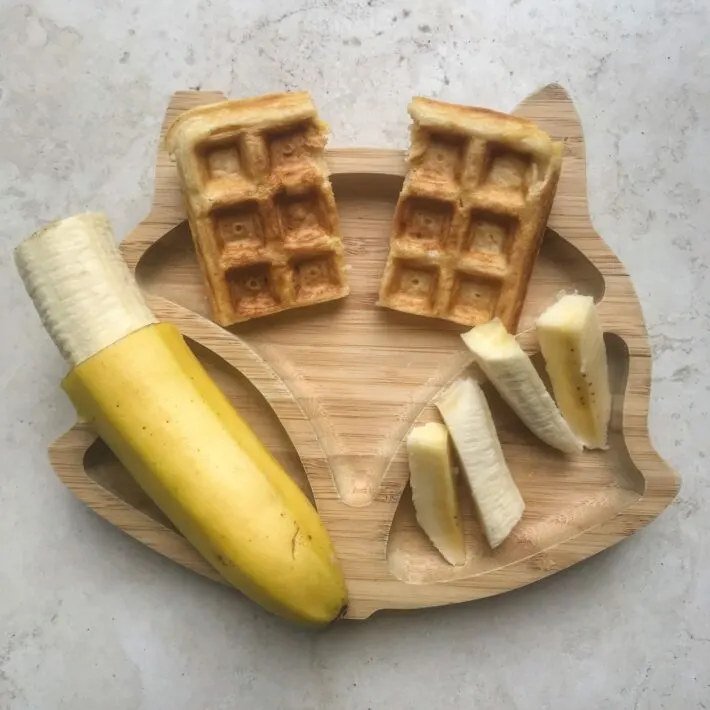 Healthy and delicious sweet potato waffles for babies. A truly incredible breakfast idea for your baby or toddler!
Ingredients
250 grams plain flour
1 tsp baking powder
1 egg
170 grams frozen sweet potato chunks
1 tsp vanilla extract
15 grams unsalted butter
350 mililitres whole milk
Instructions
Microwave the sweet potato chunks in water for 10 minutes until soft.
Meanwhile, in a large bowl, combine flour, baking powder, butter, egg, milk and vanilla extract and whisk until smooth.
Once the sweet potato is cooked, drain the water and mash the chunks with a fork until a paste is formed. Add this to the large bowl and combine thoroughly
Use a ladle to spoon the mixture (which should be relatively runny) onto the waffle maker. (One ladle will make approximately one waffle depending on the size of your waffle maker)
Cook on the waffle maker for 8 minutes, or until it is starting to brown.
Repeats steps four and five until the mixture is all used up.
Nutrition Information:
Yield:
6
Serving Size:
1
Amount Per Serving:
Calories:

8892
Total Fat:

466g
Saturated Fat:

267g
Trans Fat:

0g
Unsaturated Fat:

145g
Cholesterol:

1460mg
Sodium:

6225mg
Carbohydrates:

721g
Fiber:

2g
Sugar:

721g
Protein:

454g
Author: Nicola Hughes
Nicola has weaned both of her boys using the baby led weaning method. She loves nothing better than creating simple recipes that anyone can recreate, using as few ingredients as possible. All of her recipes have been tried and tested by both Dexter and Felix and have their seal of approval!