Banana pancakes for babies are one of the quickest and easiest foods to offer to your baby when you start baby led weaning. When we weaned Dexter back in 2016, banana pancakes were the first solid food we offered and got us started on our baby led weaning journey.
This banana pancakes for babies recipe is so easy and you only need two ingredients! It couldn't be simpler!
Why offer banana pancakes to your baby?
Pancakes are one of my absolute favourite foods to offer to baby because they're soft, they're totally versatile and they can be served morning, noon and night.
Not only is this recipe quick to prepare, it's also a very simple food to begin weaning your baby with.
Bananas are full of important nutrients for your baby including:
Potassium
Vitamin B6
Vitamin C
Magnesium
This banana pancake recipe contains egg. Is it safe to offer eggs to my baby?
Absolutely. As with all allergens, it is important to watch out for any signs of a reaction after eating egg, but egg is safe for babies to eat from six months onwards.
Recent research has shown that early introduction of allergens can help prevent allergies developing later in life. However, if your family has a known history of egg allergies, please consult your doctor/paediatrician first.
How do you make these banana pancakes for babies?
Step 1: Take one banana and mash it up with a fork. The riper the banana, the better!
Of course you can use a food processor/blender to save time but to be honest I'd rather spend the extra time mashing than cleaning up the blender!
Step 2: Crack an egg into the blended banana and whisk with the fork. Keep whisking until the mixture becomes frothy and batter-like.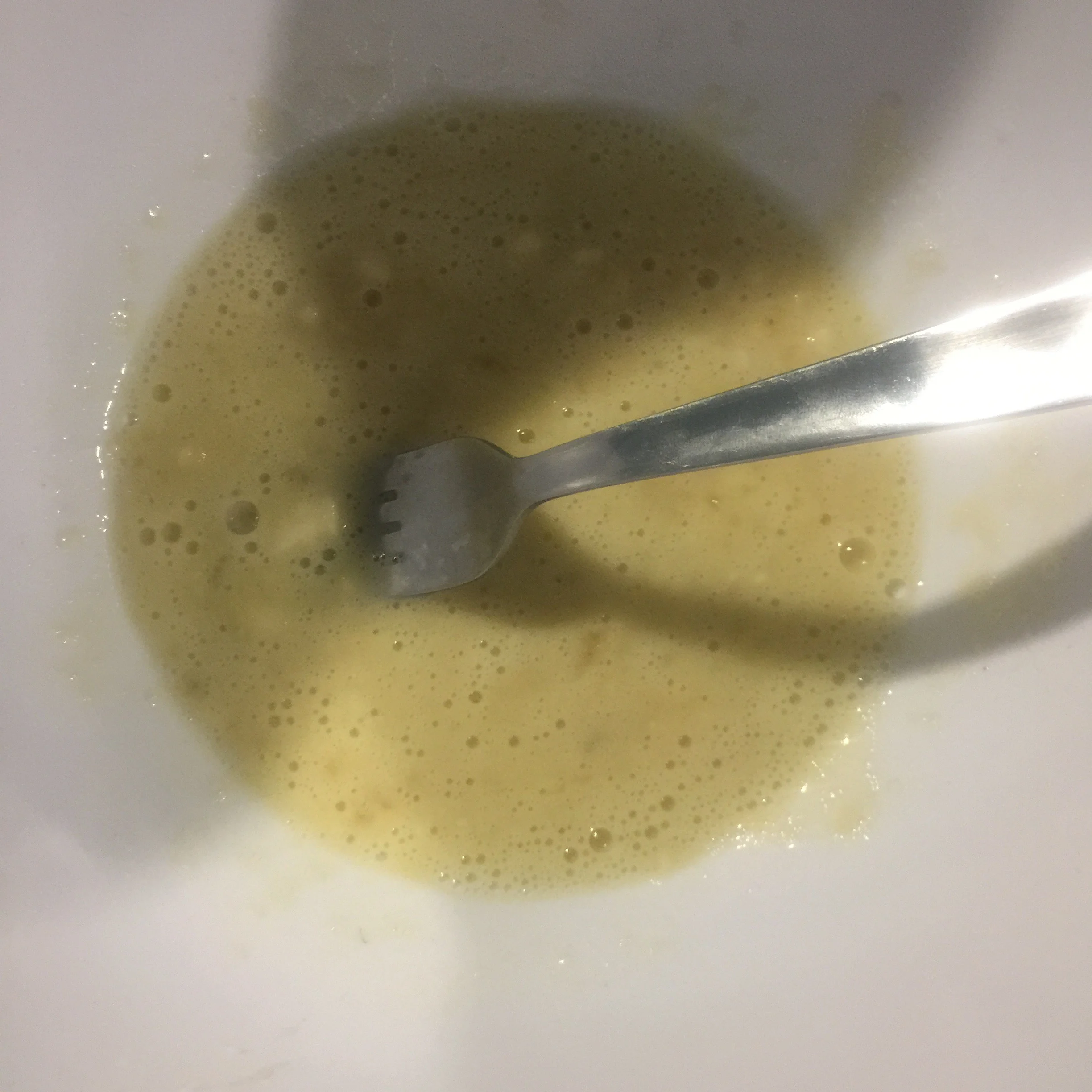 Step 3: Your batter is now ready!
Heat some coconut or olive oil in a frying pan and added a tablespoon of the batter for each pancake you want to make. I usually get six banana pancakes from the batter.
Step 4: Let the banana pancakes fry for around two minutes before flipping. You can see when they're ready to be flipped because they start browning at the edges.
Related Post: The Ultimate List of Baby Led Weaning Breakfast Ideas
Step 5: Leave them to cool completely before serving to your baby. These fab Munchkin White Hot plates
tell you when the food is too hot.
More Baby Led Weaning Pancake Recipes:
How do you serve these banana pancakes for babies?
The beauty of these banana pancakes for babies is they can simply be served as they come.
You may wish to slice each mini pancakes into three strips, but from six months old, Dex was able to pick them up whole and stuff them in his mouth!
The first time I offered these to Dexter I placed two on his tray and let him go to town. He very quickly ate them all.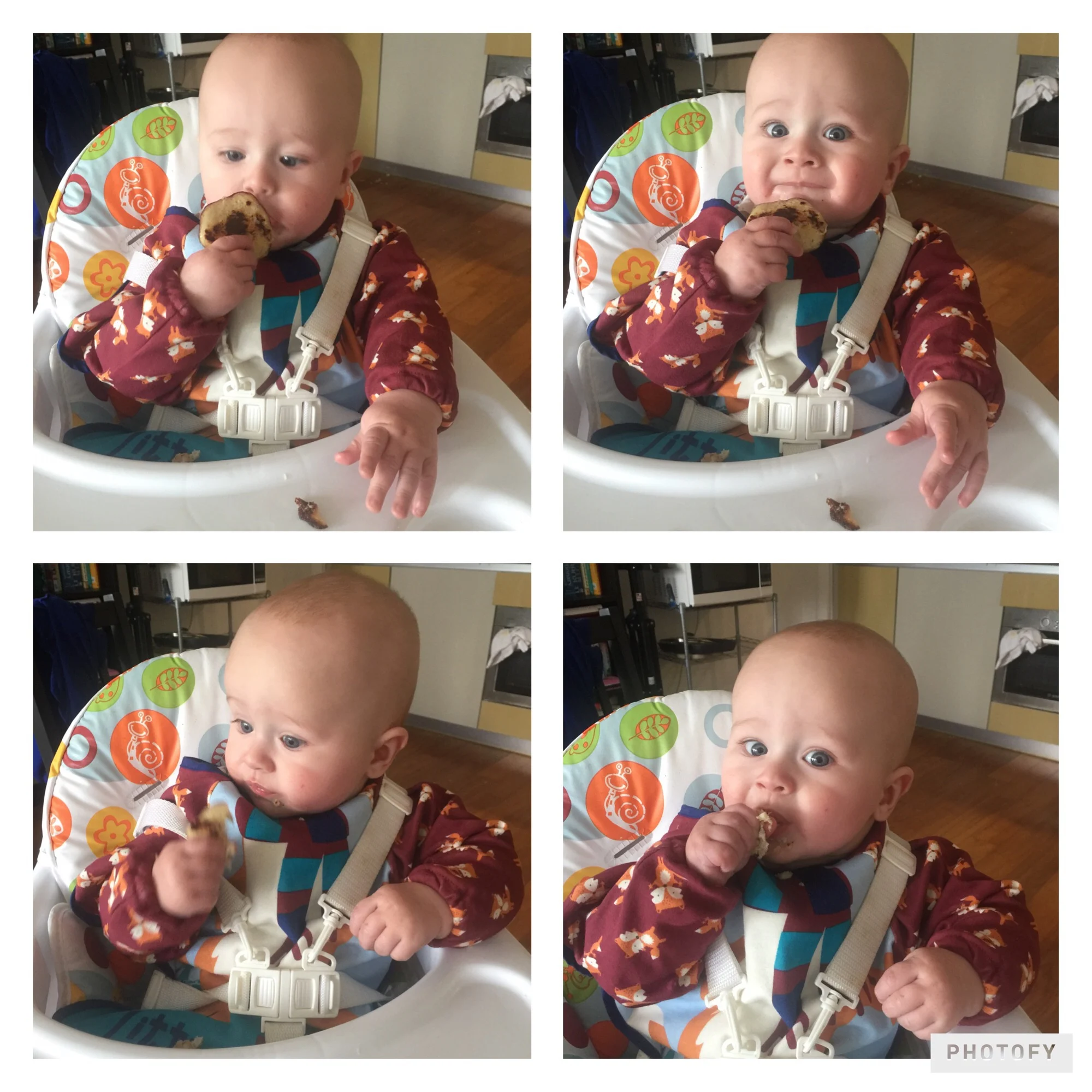 Related Post: Banana and Peanut Butter Baby Led Weaning Cookies
How can this recipe be adapted?
Try adding a little cinnamon or grated apple to the batter to give a little extra flavour. You could also add extra fruit such as squashed blueberries, raspberries or raisins
Let me know if you try it with your baby and how you get on with these banana pancakes for babies! I think banana pancakes are the perfect first food when you're starting out with baby led weaning!
If you enjoyed making this recipe, please:
Yield: 6 mini pancakes
Banana Pancakes for Babies
A quick and delicious recipe creating banana pancakes for babies using only two ingredients. This is the ideal first food for babies who are baby led weaning and a great finger food for babies who are being weaned traditionally.
Instructions
Peel a banana and mash it in a bowl until a puree is formed.
Crack an egg into the bowl and mix very well with a fork or whisk until a batter is formed.
Heat a little oil in a frying pan and then spoon the batter into the pan, creating six tiny pancakes.
Once the batter starts browning at the edges, flip them.
Cook on the other side for a further minute or two.
Leave to cool fully before serving to baby.
Author: Nicola Hughes
Nicola has weaned both of her boys using the baby led weaning method. She loves nothing better than creating simple recipes that anyone can recreate, using as few ingredients as possible. All of her recipes have been tried and tested by both Dexter and Felix and have their seal of approval!