Pizzas are a huge staple in this house, we love ordering them for takeout, buying them fresh from the supermarket and making our own. Before Dex came into this world, we would make our own dough, spend hours proofing it, rolling it and baking it. We rarely have time to do this now, so we needed to find a quick way of making our favourite Italian food. Here I share our two favourite quick ways to make pizza for babies and the best part is, the adults can share in the joy of delicious cheesy baby led weaning pizza too!
Pizza for babies? Are you for real?!
Yeah, yeah I know what you're thinking – offering pizza to a baby? Well, as one of our favourite foods, I cou;dn't leave the kids out, so we've adapted our usual pizza recipes and given up on takeaways (for the most part!) to create two delicious and healthy ways of making pizza for babies and toddlers.
Both my babies have loved all the different tastes that comes with eating pizza and the two methods mean the dough remains soft enough for them to devour with ease! We often make these pizzas for babies as a quick baby led weaning lunch or eat them alongside a small pasta dish as an evening meal. Yum!
Easy baby led weaning pizza using flatbreads
The first (and super easiest of the two methods!) way of making pizza for babies is by using flatbreads.
Flatbreads are available in most supermarkets and you can simply build pizza toppings on them and throw them under the grill. It couldn't be simpler!
For toppings we like to use:
chicken
sliced chorizo
spinach
ham
cheese
jalapenos (for us, not baby!)
plus anything else you could ever think to throw on a pizza (but never pineapple!!)
Related Post: Homemade Flatbread Recipe
I put the pizzas under the grill for a couple of minutes until the cheese is bubbling away. I also like to make cheesy garlic breads the same way as well – there's nothing better!
Our favourite baby led weaning products
Baby led weaning pizza using homemade dough
Another really simple way to make baby led weaning pizza is to create a dough using two simple ingredients: flour and natural yoghurt.
You'll find the full recipe at the bottom of this article, but simply put, you combine flour and yoghurt to form a dough, knead it, pop it in the oven, add toppings and then bake for 10 minutes!
These baby led weaning pizzas are simply divine! The dough is lovely and soft and the world is your oyster when it comes to toppings. I really wish we could eat these for dinner every night!
Would you offer takeaway pizza to your baby?
It's much healthier to offer your baby one of these baby led weaning pizzas instead of a supermarket or takeaway one. When you make all your own food from scratch, you know exactly what has been put in it and you don't have to worry about salt content either.
That's not to say I am against a takeaway treat every once in a while – however I would definitely wait until your baby is more of a toddler as the salt content can be super, duper high.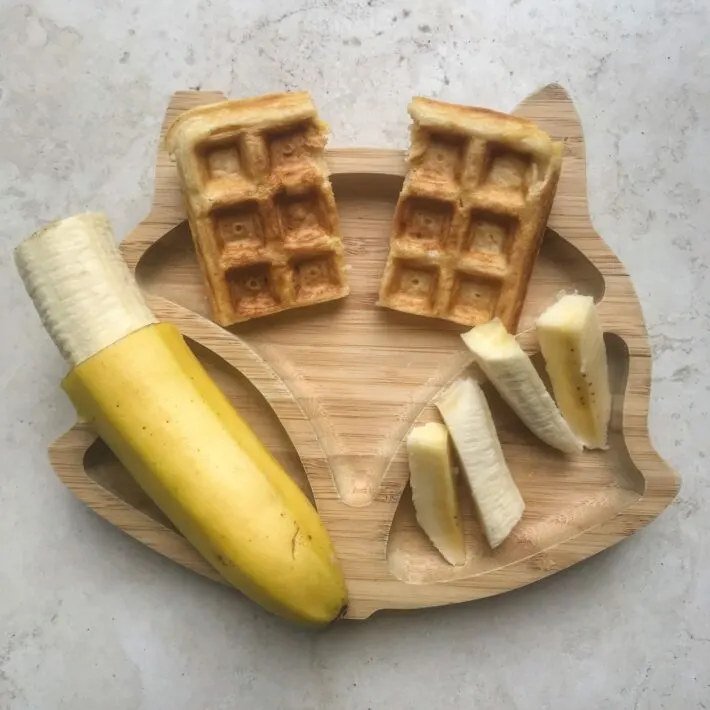 ---
How do you serve baby led weaning pizza?
Once the cheese is bubbling and the pizza is hot, I slice it into strips ready to offer once its cooled down. We offered this meal from 7 months onwards with our first baby.
Forget the takeaway this weekend and try this pizza for babies!
If you enjoyed making this recipe, please:
Yield: 2 small pizzas
Pizza for Babies
Enjoy this healthy way of offering pizza for babies, using only two simple ingredients to create the base! Top with whatever toppings you choose and enjoy!
Ingredients
100 grams plain flour
1/2 tsp baking powder
100 grams natural yoghurt
tomato paste
cheese
toppings of your choice
Instructions
1. Start by preheating your oven to 220C fan.
2. Add flour and baking powder to a bowl and combine thoroughly. Add in the yoghurt and mix together with a spoon until a dough forms.
3. Lightly flour the worktop and turn out the dough ball onto it. Knead it gently for a few minutes until soft and not sticky.
4. Divide the dough into two balls and roll out into circles.
5. Lightly grease a baking tray and then add the bases onto it. Bake in the oven for five minutes.
6. Remove from the oven and flip carefully. Add a dollop of tomato paste onto each base and spread out with the back of a spoon. Next add whatever toppings you choose including cheese.
7. Put back in the oven for a further 10 minutes.
8. Once ready, remove from the oven and leave to cool fully before serving to baby.
Nutrition Information:
Yield:
2
Serving Size:
1
Amount Per Serving:
Calories:

277
Total Fat:

6g
Saturated Fat:

3g
Trans Fat:

0g
Unsaturated Fat:

2g
Cholesterol:

17mg
Sodium:

254mg
Carbohydrates:

44g
Fiber:

2g
Sugar:

5g
Protein:

11g
Author: Nicola Hughes
Nicola has weaned both of her boys using the baby led weaning method. She loves nothing better than creating simple recipes that anyone can recreate, using as few ingredients as possible. All of her recipes have been tried and tested by both Dexter and Felix and have their seal of approval!