It's the middle of summer, we are three months into lockdown and I am getting bored of thinking of fun and nutritious lunch ideas for the boys. There, I said it. Trying to balance working from home full time with looking after two children under four has been challenging and I am happy to take whatever shortcuts I can find, especially when it comes to food prep. This recipe is a SUPER simple lunch idea for both babies and toddlers. It contains only three ingredients, takes around ten minutes to prepare and can be pre-made and thrown in the fridge for a healthy and nutritious meal, anytime of the day. Read on for my easiest ever baby and toddler lunch recipes – tuna and sweetcorn pasta salad.
A NUTRITIOUS, YET LAZY, TODDLER LUNCH
What I love about this recipe, is that it takes hardly any effort to prep at all, and yet is super nutritious for your baby or toddler.
The sweetcorn is packed full of vitamin C and folate, whilst the tuna is full of omega-3 fatty acids which are great for young brains.
Each ingredient can be found in your tinned food cupboard (or freezer) and easily combined to make a quick and healthy meal for your kids.
BATCH COOKING RECIPE
This tuna and sweetcorn pasta salad recipe can be made in as big or small a quantity as you want, which means you can box some of it up for a healthy lunch or dinner the following day. I have always, and will always, be a big fan of batch cooking as it makes life so much easier for us Mums.
---
More baby led weaning pasta recipes:
---
ADDING A FEW EXTRA INGREDIENTS
You can of course add some extra ingredients to make this recipe even tastier – a good idea if you're serving it to adults too.
A clove of garlic, some basil leaves, mozzarella chunks or a dollop of Dijon mayonnaise are all excellent additions to this recipe. It can also be served upon a bed of spinach leaves, if you're looking to increase the number of greens in the recipe.
WHAT TYPE OF PASTA IS BEST?
We prefer to use fusilli when feeding the baby, as it's easy enough for him to handle with his hands or cutlery. Penne is also another great option. We have never tried it with a noodle type pasta, such as spaghetti, so let me know if you do and what the result is!
WHAT DID THE KIDS THINK OF IT?
Unsurprisingly, this tuna and sweetcorn pasta salad is devoured by both our 18 month old and four year old, each time we serve it. The toddler prefers a bit of cheese in his, whereas the baby is happy for it to be served just as it is. It's a great meal for him to practise using his cutlery skills and we love watching his poke his fork into the pasta!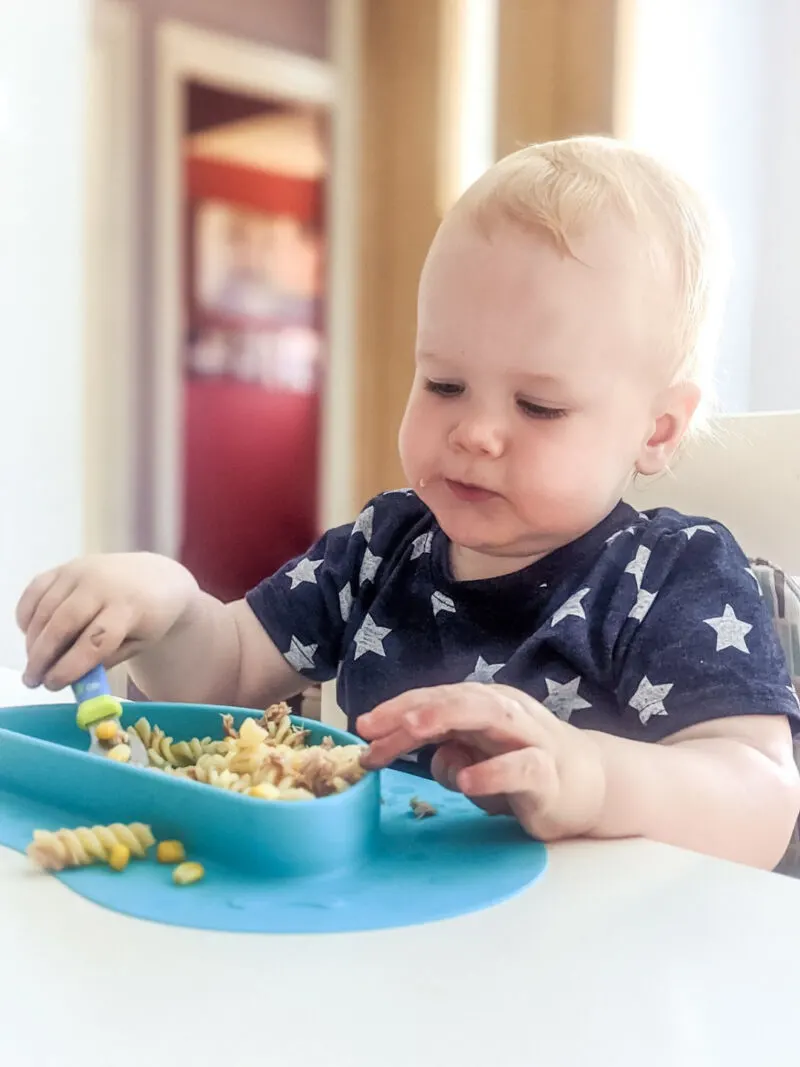 WHAT PLATE DID YOU SERVE IT ON?
That's a Nuby Sure Grip Miracle Plate. It's not great at sticking to a highchair's tray, but now that Felix uses his Nuby travel booster seat to eat at the table with us, we find that it sticks to our wooden Ikea table really, really well.
If you enjoyed making this recipe, please:
Yield: 4 servings
The Easiest Ever Baby and Toddler Lunch - Tuna and Sweetcorn Pasta Salad
Super simple tuna pasta salad recipe for babies and toddlers. This recipe can be created in a matter of minutes and is perfect for busy Mums!
Ingredients
250 grams of fusilli pasta
handful of frozen sweetcorn
tin of tuna
Instructions
Cook the pasta according to the packet instructions.
Pour the sweetcorn into a bowl and cover with boiling water, leave to stand while the pasta cooks.
Once the pasta is cooked, remove the water from the pan, add the sweetcorn and a tin of tuna. Mix together until thoroughly combined.
Serve immediately, or once cooled, pop in the fridge for lunch or tea.
Nutrition Information:
Yield:
4
Serving Size:
1
Amount Per Serving:
Calories:

189
Total Fat:

1g
Saturated Fat:

0g
Trans Fat:

0g
Unsaturated Fat:

1g
Cholesterol:

10mg
Sodium:

13mg
Carbohydrates:

32g
Fiber:

2g
Sugar:

1g
Protein:

12g
Author: Nicola Hughes
Nicola has weaned both of her boys using the baby led weaning method. She loves nothing better than creating simple recipes that anyone can recreate, using as few ingredients as possible. All of her recipes have been tried and tested by both Dexter and Felix and have their seal of approval!