Looking for an incredibly delicious way to use courgettes for baby led weaning? Look no further than these baby led weaning courgette bites. The perfect finger food idea for babies 6 months+ who are baby led weaning or are ready for finger foods.
Baby led weaning courgette
Courgettes (or zucchini as they're known in the US) are an important food to offer to your baby. Rich in potassium, Vitamin A and Vitamin D, courgettes are healthy, tasty and super versatile when it comes to using them in your home cooked meals.
Courgettes soak up the flavour of the herbs and spices you use alongside them and make a welcome addition to so many different meal ideas.
We always try to have a courgette or two in the fridge as it's super easy to grate, spiralise or cut into chunks and throw into soups, bologneses, casseroles and numerous pasta dishes.
Related Post: 20 Baby Led Weaning Dinner Ideas
What are the health benefits of courgettes?
Courgettes soak up the flavour of the herbs and spices you use alongside them and make a welcome addition to so many different meal ideas. This is why we use it so much when we are baby led weaning.
Nutrient-Rich: Courgettes are packed with essential nutrients like vitamins A and C, potassium, and folate. These nutrients play a crucial role in supporting your baby's growth and overall health.
Digestive Support: The dietary fiber present in courgettes promotes healthy digestion and helps prevent constipation in babies.
Low Calorie and Hydration: Courgettes have a high water content and are naturally low in calories, making them a hydrating and nutritious choice for your baby's diet.
Rich in Antioxidants: Courgettes contain antioxidants like beta-carotene and lutein, which contribute to your baby's overall health and protect against cell damage.
Bone Health: Courgettes provide small amounts of minerals like manganese and magnesium that contribute to strong bones and teeth.
Brain Development: The B-vitamins found in courgettes, such as folate, contribute to healthy brain and nervous system development in babies.
Courgette bites
When you're weaning babies, it's super useful to cook burgers, bites and fritters so you can have a freezer stash at the ready. It's also a simple way of introducing finger foods to your baby.
For the first six months of Felix's weaning life, he tended to snack on bites, burgers, fingers and fritters as it was such an easy way of combining nutritious food in a way he could easily handle and eat it.
These courgette bites are no different. Easy for baby to hold, absolutely delicious and of course, they can be batch prepared and stored in the fridge/freezer.
---
More courgette baby led weaning recipes:
---
Egg free baby led weaning courgette bites
This recipe uses egg to bind the ingredients together, but I know many of my readers have babies with egg allergies.
You can create a 'flaxegg' by mixing 1 tbsp of flaxseed with 3 tbsp of water and leaving in the fridge for a few minutes to develop an egg like consistency.
I have tried to create a flaxegg in the past (and seen great success) although I have not tried it with this particular recipe.
What did Felix think of these baby led weaning courgette bites?
Felix LOVES these courgette bites! Ever since I started making them for him as a baby, they've been a huge hit! Even now at two years old, they're my go-to snack option in the mid-afternoon when those hunger pangs hit!
Lisa from Love From Lisa Blog recently tried these with her little one, Thomas and shared her thoughts on Insta Stories. Apparently little Thomas was screaming for more!
More baby led weaning recipes: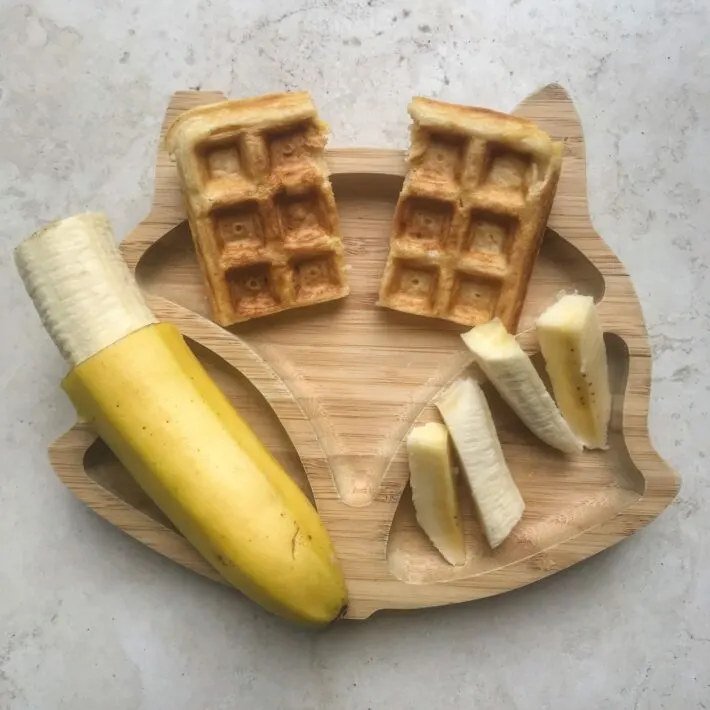 ---
If you enjoyed making this recipe, please:
More Baby Led Weaning Recipes
Yield: 10 bites
Baby Led Weaning Courgette Bites
A simple recipe using courgette/zucchini to create delicious and healthy courgette bites - perfect for lunch or dinner!
Ingredients
1 courgette
2 eggs
3 Tbsp Breadcrumbs
1 Spring onion (optional)
50 Grams Cheddar cheese
Instructions
Grate courgette and cheddar into a large bowl.
Add breadcrumbs, chopped spring onion and eggs and combine thoroughly.
Prep a baking tray with baking paper and using a spoon, create walnut sized balls and place on the baking tray.
Bake at 200C/180C fan for 20 minutes or until browned. Flip them half way through so ensure they're evenly cooked.
Leave to cool and serve whole or sliced depending on baby's age.
Nutrition Information:
Yield:
10
Serving Size:
1
Amount Per Serving:
Calories:

46
Total Fat:

3g
Saturated Fat:

1g
Trans Fat:

0g
Unsaturated Fat:

1g
Cholesterol:

42mg
Sodium:

63mg
Carbohydrates:

2g
Fiber:

0g
Sugar:

1g
Protein:

3g
Author: Nicola Hughes
Nicola has weaned both of her boys using the baby led weaning method. She loves nothing better than creating simple recipes that anyone can recreate, using as few ingredients as possible. All of her recipes have been tried and tested by both Dexter and Felix and have their seal of approval!