Now that I'm back in work, it is so important to me that I make healthy and yummy dinners that are quick and simple to make. I have a long commute home and need something quick and easy which doesn't compromise on health. That's where this baby led weaning stir fry comes in. I use pre packaged frozen ginger and garlic and packaged stir fry veg to make it even quicker. What's more, it's perfect for baby-led weaning and Dexter loves it! Read on for the recipe for this stir fry for babies.
Why offer stir fry to your baby?
I love offering tons of different types of food to my babies and am a big believer in getting them to taste as many different flavours and textures as possible – especially in their first year of weaning.
Stir fry incorporates lots of different food groups and can be made super healthy with the addition of lots of veggies.
Even better – stir fries are SO quick to prepare. This recipe will take you around 15 minutes from start to finish which makes it the perfect homemade meal when you can't really be bothered to cook from scratch!
How many people does this stir fry recipe serve?
This recipe is perfect for two adults and a baby. Of course, if it's just you and baby, you can tupperware the other half of the meal and take it to work for lunch the next day!
What veggies can you use in a baby led weaning stir fry?
I like any soft finger sized veggies such as:
Baby corn
Green beans
Carrots
Peppers
For this recipe we used a pre-packaged veggie box from the supermarket and just made sure everything was cut appropriately for baby.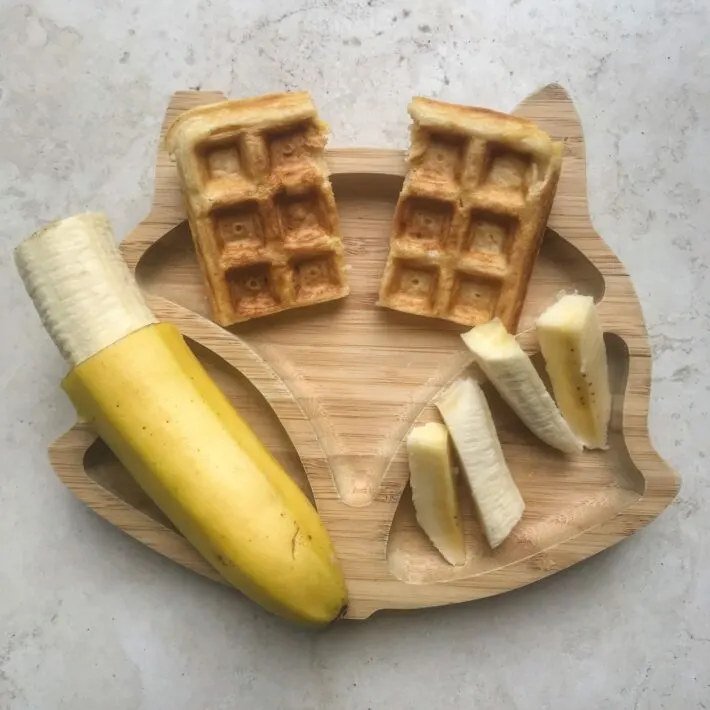 ---
Related Post: 50 Baby Led Weaning Breakfast Ideas
Let me know what you think of this quick and easy stir fry for babies. This is a meal we have on a regular basis because Dex seems to enjoy it so much. It is such an easy way to get extra veg in, not just for Dex but for my husband too!
What's next? Find more family meal ideas by checking out this post – 20 Baby Led Weaning Dinner Ideas
For a toddler friendly version of this recipe, try this simple chicken noodles for toddlers post
If you enjoyed making this recipe, please:
Baby Led Weaning Stir Fry
A super simple and quick recipe to share with your partner and baby. Perfect for those evenings when you've had a long day at work and want to quickly through something healthy and delicious together in minutes!
Ingredients
Pack egg noodles 250g
3cm fresh ginger, grated (or use a cube of frozen)
2 cloves garlic
1 tbsp coconut/olive oil
300g turkey diced
Pack of stir fry vegetables (or throw in some of your own. I love to add broccoli, bean sprouts, babycorn, mushrooms, green beans)
Cherry tomatoes quartered
1 tbsp peanut butter
1 tbsp maple syrup
1 tsp chilli flakes (optional)
1 tsp Chinese five spice
1 tbsp soy sauce (reduced salt*)
Instructions
Add oil to a wok/frying pan, then add ginger and garlic and fry for a minute. Add the turkey and stir fry until cooked through.
Meanwhile, cook the noodles according to the pack instructions. (Not applicable if using fresh noodles)
Make the sauce by combining the maple syrup, soy sauce, peanut butter, chilli falkes (if using) and Chinese 5 spice. Add a little water to increase the volume. If you like your sauce a little thicker, add a teaspoon of cornstarch.
Add the stir fry veg and tomatoes to the stir fry and combine thoroughly, add the cooked noodles and combine again. Pour over your sauce and stir fry for one minute.
Serve and enjoy. I like to cut the noodles for baby.
Nutrition Information:
Yield:
3
Serving Size:
1
Amount Per Serving:
Calories:

469
Total Fat:

21g
Saturated Fat:

5g
Trans Fat:

0g
Unsaturated Fat:

14g
Cholesterol:

134mg
Sodium:

745mg
Carbohydrates:

35g
Fiber:

4g
Sugar:

7g
Protein:

36g
Author: Nicola Hughes
Nicola has weaned both of her boys using the baby led weaning method. She loves nothing better than creating simple recipes that anyone can recreate, using as few ingredients as possible. All of her recipes have been tried and tested by both Dexter and Felix and have their seal of approval!