When I originally wrote this recipe, Felix was on his third week of baby led weaning and after a difficult start, i was pleased that it was getting a lot easier. After a couple of weeks of him being totally disinterested in food, he suddenly became a baby who was willing to try anything – and nothing has changed since. These spinach pancakes for babies have remained a firm favourite throughout the last two years.
I am a huge fan of baby led weaning pancakes as I think they're such an easy food to prepare and make and super versatile too. Keep reading for the simple baby spinach pancake recipe, which can be used to create huge pancakes or tiny ones perfect for little fingers!
---
More baby led weaning spinach recipes:
---
With Dexter we tried sweet potato pancakes, banana pancakes, beetroot pancakes, baked pancakes and good old scotch pancakes. These days at three years old, he's more of a fan of chocolate pancakes, but the baby is not quite that lucky…he's stuck with spinach pancakes!
But guess what, they actually taste yummy and I bet nobody would even guess there's spinach in them, apart from the colour!
Related Post: 50 Baby Led Weaning Breakfast Ideas
Baby led weaning spinach pancakes are so quick and simple to make and only require ingredients you've got stocked in your fridge/cupboard. They take less than five minutes to prepare and a few minutes each to cook. As usual I like to batch make a few so I've got a few left for tomorrow, but usually they all end up getting eaten anyway! They're that delicious!
Related Post: The Best Baby Led Weaning Spoons
What blender do I use?
I use a Kenwood 3-1 blender which comes with three different parts to make blending easier than ever!
Versatile Baby Spinach Pancakes
What I love about this recipe is the pancakes created can either make huge pancakes or mini ones. The batter is lovely, thick and gloopy so you can make whatever size pancake your heart desires!
With both my boys, I liked offering mini pancakes to begin with, before moving onto larger ones cut into strips as they got older.
Let me know if you try these baby led weaning spinach pancakes and what baby thought of them. Felix demolished a whole one within ten minutes and started banging on the high chair for more!
Word of warning though, these are messy! I really should have thought harder about dressing him in white before offering him these yummy pancakes. Oops!
Luckily now as a toddler, he is a lot less messy when it comes to eating these delicious baby spinach pancakes!
If you enjoyed making this recipe, please:
More Baby Led Weaning Pancake Recipes:
Yield: 2 medium sized pancakes
Baby Led Weaning Spinach Pancakes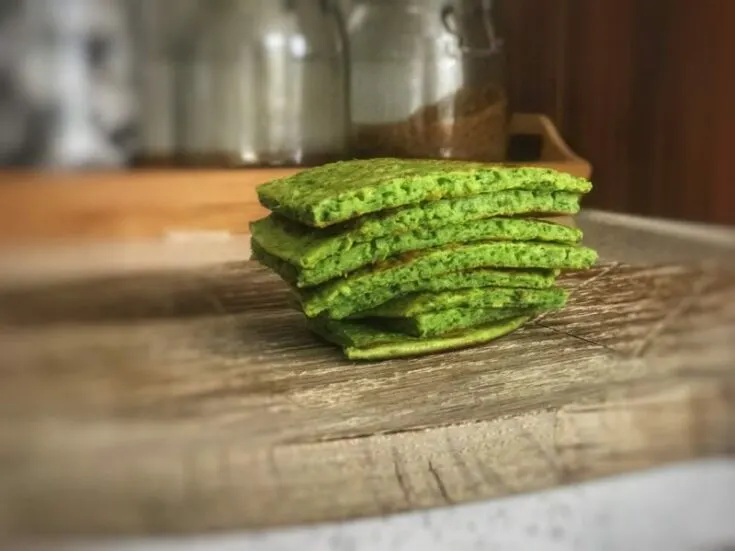 A simple and delicious recipe using nutritious spinach to create healthy pancakes for your baby. An incredible breakfast option or perfect for a baby led weaning snack on the go!
Ingredients
1 egg
handful spinach
60 ml whole milk (or formula or breast milk)
60 grams flour
Instructions
Add 60ml of milk and a handful of spinach to a blender and blend until green and thin.
In a bowl add flour, the green milk and one egg, then whisk until the batter is formed.
Grease a frying pan (I used oil spray) and pour half of the batter into the pan, letting it spread out
After a couple of minutes, tilt the pan and if it's ready to flip, the pancake will move freely. Either flip it or turn it over with a spatula. Cook the other side for two minutes.
Do the same again with the remaining batter and leave pancakes to cool fully before serving to baby.
Author: Nicola Hughes
Nicola has weaned both of her boys using the baby led weaning method. She loves nothing better than creating simple recipes that anyone can recreate, using as few ingredients as possible. All of her recipes have been tried and tested by both Dexter and Felix and have their seal of approval!