Cauliflower cheese for babies is an incredibly warming comfort food that is perfect for the winter months. Whether you're chosen the traditional weaning route or are following baby led weaning, cauliflower cheese has to be on your list of foods to offer baby before they turn one.
Deliciously creamy and jam packed full of nutrients – your baby will love this recipe which can be shared with older kids and the adults in the family too!
Cauliflower Cheese for Babies
It takes a bit of time to make this cauliflower cheese for babies recipe, but the result is well worth the effort! Deliciously creamy and full of healthy nutrients, cauliflower cheese for babies makes the ideal side dish to a Sunday roast or can be served by itself as an exciting way for your baby to sample cauliflower for the first time!
Why offer cauliflower to your baby?
Cauliflower is a nutrient-rich vegetable which boasts a whole load of health benefits for your baby. Key nutrients include:
Fibre – helps keep things moving in the digestive tract and helps prevent constipation
Vitamin C – maintains a healthy immune system
Vitamin K – helps to make the proteins that build bones
Vitamin B6 – important for brain development
Folate – helps with the formation of red blood cells
Potassium – helps cells to function normally
Manganese – necessary for building healthy bones and tissues
Magnesium – supports muscle and nerve function
Phosphorus – builds strong healthy bones
Our favourite baby led weaning products
How do you make cauliflower cheese for babies?
Cauliflower cheese for babies is super simple to make. Just follow these few easy steps:
Boil the cauliflower on the hob for around 15 minutes, until soft.
Meanwhile make the cheese sauce, using butter, milk, flour and cheese.
Combine the cauliflower and cheese sauce in an oven proof dish and bake in the oven for 25 minutes.
Leave to cool fully before serving to baby.
Can you use frozen cauliflower to make this recipe?
Absolutely! There's been this myth over the last few decades that frozen isn't as good as fresh as it contains less nutrients, but recent studies show this isn't the case.
As long as your frozen cauliflower is stored properly and you haven't been hanging onto it for too long, it will work just as well and be just as nutritious for your baby!
Simply boil the frozen cauliflower just as you would the fresh cauliflower!
What sort of cheese should I use?
Any hard cheese will work well, but I prefer to use cheddar as it is nice and sharp and something we always have in our fridge to hand. Other good choices are:
Asiago
Colby
Fontina
Gouda
Gruyère
Havarti
Monterey Jack
Muenster
How do you serve cauliflower cheese to babies?
The first thing to consider before serving this dish to your baby – is it fully cooled? Cauliflower cheese gets extremely hot during the cooking process , so it's imperative to ensure the whole dish is cool before serving up to your baby.
For those who are baby led weaning, you can serve whole florets for your baby to grab and eat with their hands.
For those babies who are following a traditional weaning method, you can mash the cauliflower cheese with a fork and spoon feed it to them.
For slightly older babies, you could chop it into smaller chunks and let them try and practise picking them up with their pincer grip or try using some baby cutlery.
More recipes for babies: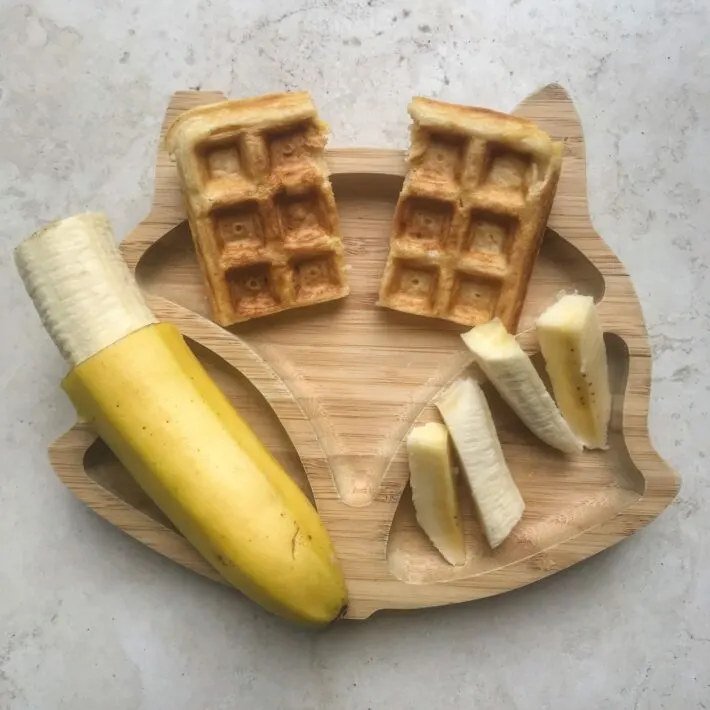 ---
What do you serve alongside cauliflower cheese?
This recipe can be served alone or can be part of a bigger meal that you offer to baby. We often serve cauliflower cheese alongside a Sunday roast or other warming Winter meals such as toad in the hole.
If you enjoyed making this recipe, please:
Cauliflower Cheese for Babies
Ingredients
1 head of cauliflower
300 ml milk
2 tbsp flour
knob of butter
60 grams cheese
Instructions
Boil the kettle and preheat the oven to 180C.
Break up the head of cauliflower by either pulling our florets to place in a saucepan or use a food processor to break it up into smaller chunks.
Place the cauliflower in the saucepan and cover with boiling water. Boil for 15 minutes.
Meanwhile, make the sauce. In a milk pan, add a knob of butter and once it is melted, add the milk and flour, whisking continuously until all the flour is absorbed. Add the cheese and keep whisking until the sauce becomes thick and creamy.
Drain the water from the cauliflower and add it to an oven safe dish. Cover the cauliflower with the cheese sauce and place in the oven on the top shelf for twenty minutes.
Cool fully before serving to baby - cauliflower cheese is extremely hot when it comes out of the oven.
Nutrition Information:
Yield:
4
Serving Size:
1
Amount Per Serving:
Calories:

171
Total Fat:

10g
Saturated Fat:

6g
Trans Fat:

0g
Unsaturated Fat:

3g
Cholesterol:

29mg
Sodium:

178mg
Carbohydrates:

13g
Fiber:

3g
Sugar:

7g
Protein:

9g
Author: Nicola Hughes
Nicola has weaned both of her boys using the baby led weaning method. She loves nothing better than creating simple recipes that anyone can recreate, using as few ingredients as possible. All of her recipes have been tried and tested by both Dexter and Felix and have their seal of approval!